China's Tencent Buys Stake in Struggling Parent of Snapchat App
By and
Announcement comes after disappointing quarter for Snap Inc.

Owner of Supercell sees opportunity to work with Snap on games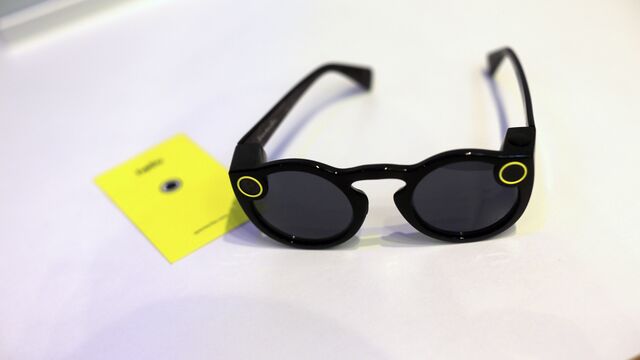 Tencent Holdings Ltd. has acquired about a 12 percent stake in Snap Inc., taking advantage of a decline in the social media company's share price since its public market debut.
China's biggest instant messaging company says it wants to work with Snap, which is struggling to hold its own against Facebook Inc. Tencent has experience turning its apps into big money-makers by adding games, newsfeeds and advertising. Taking a stake in Snap also could help the Chinese company expand outside its home market.
"It's an offensive move for Tencent to eventually use the Snapchat platform to augment its existing consumer service in China and globally," said Daniel Ives, the head of research at GBH Insights. "These two companies and management teams know each other well with minimal overlap. It's an opportunity for Tencent to also help Snapchat get through this transition period with minimal speed bumps."
The announcement came just hours after Snap reported disappointing third-quarter results, and said it's overhauling its app to make it more user-friendly. Snap's shares were whipsawed, plunging 22 percent after the earnings report and then rising as much as 34 percent initially in premarket trading after news of Tencent's investment Wednesday. The stock fell 11 percent to $13.53 when the market opened in New York.
Read more: Gadfly on Snapchat's rich new friend
Snap is getting a valuable ally in China, where its disappearing message app doesn't work due to government restrictions. Tencent, which is based in Shenzhen, operates two separate instant messaging services, WeChat and QQ, with close to a billion users each and has turned them into full social networks.
The company is one of China's more acquisitive companies and has made investments as far afield as games, satellites and asteroid-mining. For example, Tencent bought a stake in Clash of Clans maker Supercell before buying the entire company last year for $8.6 billion.
Ives said "the jury is still out" on whether the Snap deal "turns into something more strategic down the road."
A person familiar with the transaction said Tencent's purchase is not seen as a hostile move. Snap Chief Executive Officer and co-founder Evan Spiegel sees it as an opportunity to learn from the Chinese company, the person added, asking not to be identified discussing a private matter. 
"We have long been inspired by the creativity and entrepreneurial spirit of Tencent and we are grateful to continue our longstanding and productive relationship that began over four years ago," Snap said in the filing. Tencent President Martin Lau, is looking forward to "sharing ideas and experiences," according to the filing.
Snap has been struggling to reach a broader audience and make money from advertising. It's third-quarter financials showed sales growth keeps lagging investor expectations.
In an advertising market where Facebook and Alphabet Inc.'s Google grab the majority of new spending, Snap needs to prove it can keep adding users as well as generate more revenue from each. That's a challenge as Snap's catchier features, beyond just letting people send photo and video messages that disappear after a short time, keep getting replicated by Facebook.
While the Snapchat app remains the company's primary business, it has also ventured into hardware by making Spectacles -- sunglasses with a built-in camera. Despite the buzz the glasses generated at launch, Snap had to take a $39.9 million writedown because it overestimated the value of its inventory.
According to the filing to the Securities and Exchange Commission Wednesday, Snap said Tencent bought 145.8 million non-voting shares on the open market. Tencent's purchase represents 18 percent of all Snap shares outstanding, however, there are two other classes of shares reserved for executives and early investors, and co-founders Spiegel and Bobby Murphy. Accounting for that, it brings Tencent's stake to more than 12 percent.
For more on Snap, check out the Decrytped  podcast:
— With assistance by Jing Cao, Marie Mawad, and Brandon Kochkodin
Quotes from this Article
Before it's here, it's on the Bloomberg Terminal.
LEARN MORE