Tax Bill Offers Uneven Benefits and Hikes for Some, Analysts Say
By
Subtleties contradict messages from Ryan, Trump and others

House panel aims to finish work Thursday; Senate readies bill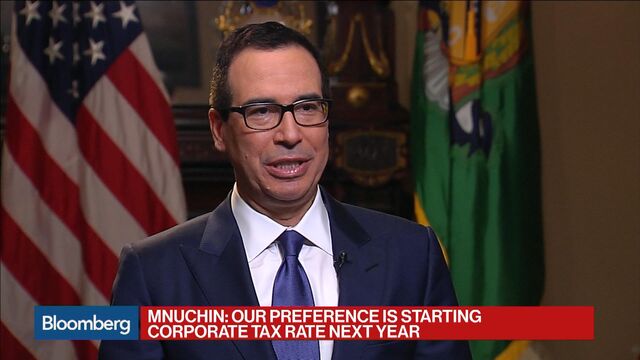 President Donald Trump's promised tax cut for the middle class comes with some extra baggage in the bill House Republicans are considering: a much larger tax cut for the top 1 percent.
That's not just a political talking point for Democrats who oppose the House bill. It's the consensus from two recent independent analyses: one by the left-leaning Institute on Taxation and Economic Policy and the other by the right-leaning Tax Foundation.
Under the bill's changes, taxpayers in the top 1 percent -- that, is, those who earned at least $480,930 in adjusted gross income in 2015, according to federal data -- would see income gains next year that are as much as triple those for the middle earners, both policy groups found. (For comparison purposes: Taxpayers in the upper middle of the income scale -- between the 50th and 75th percentiles -- earned between $39,275 and $79,655 in AGI in 2015.)
The bill would cut individual income tax rates for almost all taxpayers who make less than below $1 million a year. But it also does away with various credits, deductions and exemptions, leading to higher taxes for some, depending on how they use such breaks, according to various analyses.
The findings run counter to the messages Republicans have sought to convey about the tax plan, which would reduce federal revenue by as much as $1.5 trillion over 10 years.
"Our framework ensures that the benefits of tax reform go to the middle class, not the highest earners," Trump said last month in Pennsylvania, roughly three weeks before the House introduced its bill. In Congress, the pitch has been more targeted toward promising cuts for all.
"Even though there's a lot of false information out there, everybody gets a tax cut," House Speaker Paul Ryan said during a radio interview Wednesday.
Business Cuts
Trump has sought to emphasize the tax cuts' benefits for middle-class taxpayers and businesses. For corporations and some closely held businesses, the House bill delivers, said Mark Zandi, chief economist at Moody's Analytics Inc. in West Chester, Pennsylvania. For the middle class, it depends, he said.
"Businesses and the wealthy are the principal beneficiaries of the tax plan," Zandi said. "Lower income households ultimately see no benefit. Very high income and wealthy households benefit significantly. For middle households, it depends on where you live."
Adding to those findings was a report this week from Congress's own Joint Committee on Taxation that found 8.3 percent of taxpayers would face a tax hike in 2019. Those unlucky few tend to cluster among people earning $500,000 or more, the report found -- it said more than a fifth of such taxpayers would pay more than $500 more in 2019. But almost 10 percent of those earning between $50,000 and $75,000 would face a higher tax bill, the analysis found.
And by 2027, almost a fifth of all taxpayers would pay higher tax bills -- including almost a quarter of those in the $50,000 to $75,000 group, according to JCT, which is one of Congress's official scorekeepers on revenue questions. On Wednesday, another independent group, the Tax Policy Center, joined the fray -- saying in a study that 7 percent of taxpayers would get a tax hike in 2018 -- and a decade later that portion would rise to at least 25 percent.
Corrected Study
"Taxes would decline on average across all income groups, although higher-income taxpayers would generally receive larger cuts on average and as a percentage of income," the center's study said. By 2027, the top 0.1 percent would enjoy an average tax cut of about $278,000, while the bottom 20 percent of earners would get an average break of $10, it found. The TPC study was a corrected version of an earlier analysis TPC released.
Republicans on the House Ways and Means Committee have set a goal of voting on their tax bill Thursday -- the same day Senate Republicans plan to release their own tax legislation. Both chambers are moving on an accelerated schedule that's aimed at holding a House floor vote before Thanksgiving and a Senate vote as soon as possible after the House. Republicans would then have to reconcile differences between the two versions to meet their objective of passing landmark legislation before 2018.
The House bill would cut the corporate tax rate to 20 percent from 35 percent and set a new top rate of 25 percent for business income from partnerships, limited liability companies and other so-called "pass-through" firms. It would also condense the seven individual income-tax rates to four, with lower rates for most taxpayers. The top rate, 39.6 percent, would be retained and would apply only to individuals making $500,000 or more -- or couples making $1 million or more.
Business Changes
The business changes make the plan especially beneficial to top earners -- who are more likely to earn large amounts of income from investments and businesses. The Tax Foundation's analysis found that in 2018, those in the top 1 percent would see a 7.5 percent gain in their after-tax income, compared to 2.2 percent for the middle fifth of earners and 0.8 percent for those at the bottom of the scale.
To be sure, the highest earners shoulder most of the U.S. income tax burden -- so across-the-board tax relief is bound to favor them more than others. Treasury Secretary Steven Mnuchin -- who last year said the tax plan would offer "no absolute tax cut for the upper class" -- lamented that fact last month.
"The top 20 percent of the people pay 95 percent of the taxes," Mnuchin told Politico in an interview. "So when you're cutting taxes across the board, it's very hard not to give tax cuts to the wealthy with tax cuts to the middle class.
"From what I can tell, the Republicans are bending over backward to avoid favoring high-income households, which is hard because they are already paying the bulk of taxes," said Stephen Stanley, chief economist at Amherst Pierpont Securities and a former researcher at the Richmond Federal Reserve.
He cited the retention of the top individual income-tax bracket and other provisions in the House bill that would limit the use of deductions for state and local taxes or mortgage interest. Under current law, those breaks are available only to the 30 percent or so of taxpayers who itemize their deductions -- and those people tend to earn higher incomes.
"Most middle class households do not itemize so these deductions mostly go to the upper echelons of the income scale," he said. Lawmakers should worry less about how the tax changes affect different income levels and more about making the tax code more efficient and simpler, he said. Fairness questions could be dealt with through other government programs, he added -- not the tax code.
The president's economic advisers have also said that the corporate tax cut alone would bring benefits to individuals -- boosting average household income by at least $4,000 over the long run. Other economists have questioned that assessment.
— With assistance by Lynnley Browning, and Sahil Kapur
Before it's here, it's on the Bloomberg Terminal.
LEARN MORE