Super Lawyer Boies Is Entangled in Intrigue Over Weinstein
By
Attorney says hiring of private eyes wasn't his firm's idea

New York Times has fired Boies firm over conflict of interest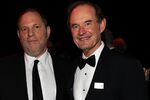 The sexual-assault scandal that brought Harvey Weinstein's career to an abrupt halt and started a national conversation about the treatment of women has led to scrutiny of tactics used by his former attorney, David Boies, one of America's most-famous litigators.
Boies, who lost the U.S. Supreme Court fight over the 2000 Bush v. Gore presidential election and later helped win legalization of gay marriage in California, hired private detectives at Weinstein's request earlier this year who sought to identify accusers and undermine news coverage of their claims, the New Yorker magazine reported on Monday. A primary target was the New York Times, which published an article in which an actress accused Weinstein of rape.
Boies also faces claims that his firm's representation of the award-winning Hollywood producer created a glaring conflict of interest because the attorney also was representing the New York Times in various legal matters.
The newspaper late Tuesday fired Boies Schiller Flexner LLP, based in Armonk, New York, saying in a statement that the firm's conduct was "reprehensible."
"We worked diligently to aggressively represent the New York Times, as we do for all our clients," the law firm said in a statement Wednesday. "We regret that the New York Times saw things differently and we will work to address this matter with them directly."
Boies signed off on hiring Black Cube, a company known for its ex-Israeli Mossad agents, according to the New Yorker. The private investigators used fake names and bogus feminist personas to secure meetings with reporters and alleged victims, including the actress in the New York Times story, Rose McGowan, the magazine said. The agents then reportedly sought to trick journalists into revealing details of their reporting and stories.
Allegations of Abuse
The revelation adds another twist to the Weinstein saga, which unleashed a wave of allegations against men across Hollywood and beyond, and triggered a social-media movement encouraging women to use #MeToo to tell their stories of abuse. The details of the New Yorker piece hint at some of the barriers women have faced when accusing powerful men.
Kim Ringler, a New Jersey ethics lawyer, said lawyers aren't allowed to use fake names or aliases to gather information or speak to people who oppose them in litigation without their attorneys. The same rules apply to third-party private investigators hired by law firms, she added.
"Lawyers are responsible for a non-lawyer's conduct if they have retained them," Ringler said. "The lawyer can't, with a wink, turn a blind eye."
Boies -- whose clients have included Pacific Investment Management Co. and Maurice Greenberg, the ousted chairman of American International Group Inc. -- said in a statement on Tuesday that he declined to represent Weinstein in the matter involving the New York Times when the producer initially learned about the story in the first half of this year. Instead, Boies said, Weinstein hired different lawyers who then selected Black Cube to investigate.
Boies nevertheless agreed to sign the contract for Black Cube even though he didn't know what tactics they planned to deploy and didn't control their actions, according to his statement. The attorney said Weinstein is no longer a client and hiring Black Cube had been a "mistake."
"While I told Mr. Weinstein that I was not in a position to represent him on these issues, his request to contract with investigators seemed at the time, like a reasonable accommodation for a longtime client," Boies said in the statement. "I regret having done this."
Fake Names
The New York Times "never contemplated that the law firm would contract with an intelligence firm to conduct a secret spying operation aimed at our reporting and our reporters," spokeswoman Eileen Murphy said in an emailed statement. "Such an operation is reprehensible, and the Boies firm must have known that its existence would have been material to our decision whether to continue using the firm."
Represent Clients
In his statement earlier Tuesday, Boies said that when the New York Times originally hired Boies Schiller Flexner, the newspaper agreed to let him continue to represent clients that opposed the publication on unrelated matters. Even so, Boies said, he declined to represent Weinstein in the probe of the newspaper's story and signed off on hiring Black Cube only because he thought it was an effort to understand the exact nature of the charges against him. Weinstein, 65, has denied any nonconsensual sexual conduct with any women.
"Had I known at the time that this contract would have been used for the services that I now understand it was used for, I would never have signed it or been associated in any way with this effort," Boies said.
Boies' statement appears to gloss over the conflict stemming from his firm working for both Weinstein and the New York Times, even on unrelated matters, said Richard Zitrin, an ethics professor at UC Hastings College of the Law in San Francisco.
'False Identity'
"When you send a person with a false identity to talk to your client's reporter, that's not in the client's interest," Zitrin said. Even so, he noted, "it's often the case that lawyers of Mr. Boies's status and reputation often get a pass on conflict of interest issues."
Boies could have avoided some of the mess by dropping Weinstein as a client as the allegations piled up, said Diane Karpman, a legal ethics expert in Los Angeles.
"Lawyers are duty bound to believe people like Harvey Weinstein, but at some point common sense does tip the scale," she said.
Boies is no stranger to alleged or suspected conflicts of interest. Last month, as the Weinstein scandal raged, his firm issued a statement denying that the attorney's campaign contributions to Manhattan District Attorney Cyrus Vance two years ago had anything to do with Vance's decision to not investigate a model's claim that Weinstein sexually assaulted her.
"The District Attorney's investigation of Mr. Weinstein was handled entirely by lawyers from other firms," the firm said in an Oct. 11 statement. "Neither David, nor anyone in his office, ever spoke to anyone in Mr. Vance's office about Harvey Weinstein."
More than a decade ago, Boies quit working for Adelphia Communications Corp. after being accused of a conflict. And in 2013, his law firm represented a hotel owner against Host Hotels and Resorts Inc. and Marriott International Inc., even though his firm had once represented Host. Lawyers for Host complained this gave Boies's client an unfair advantage, and a judge agreed.
"A clearer conflict of interest cannot be imagined," U.S. District Judge Colleen McMahon said in her ruling instructing the law firm to reimburse Host for legal fees. "This is not ethical rocket science."
Before it's here, it's on the Bloomberg Terminal.
LEARN MORE