Rupert Murdoch Loses Key Ally After Prince Alwaleed Sells Fox Stake
By
Saudi billionaire's Fox holding fell to zero since September

Murdoch faces fresh attack on Fox control at annual meeting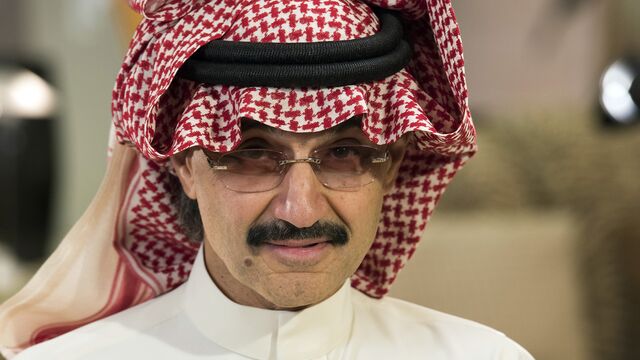 Rupert Murdoch has lost a major ally after Saudi Prince Alwaleed bin Talal sold his remaining stake in 21st Century Fox Inc.
Alwaleed, who was arrested by Saudi authorities over the weekend as part of an anti-corruption crackdown, had been a shareholder of Murdoch companies for about 20 years. The holding, listed at just under 5 percent of Fox voting shares in the third quarter, has fallen to zero, according to data compiled by Bloomberg.
Murdoch has long counted on Alwaleed's support when challenged over his grip on companies in his media empire. The Saudi billionaire acquired a stake in Murdoch's News Corp., Fox's predecessor, in 1997 and publicly backed the Murdoch family's running of the company amid phone-hacking revelations in 2011.
Alwalweed was one of the top holders of Fox's Class B shares, which carry voting rights. He dramatically reduced his holding in Murdoch's News Corp. publishing company almost three years ago and has since exited the stock.
Australian news outlet Crikey reported earlier that Fox confirmed the Bloomberg data, showing Alwaleed had offloaded his entire stake in the company. A representative from Fox declined to comment to Bloomberg.
Murdoch faces a fresh attack over control next week, with Fox shareholder the Nathan Cummings Foundation proposing to eliminate the company's dual-class stock structure. That structure gives Murdoch almost 40 percent of the voting power at the company despite only owning about a 17 percent financial stake, based on data compiled by Bloomberg.
Investors will decide on the non-binding measure at Fox's annual meeting on Nov. 15. The NCF has unsuccessfully pursued a similar change at News Corp. for several years and proposed such a change at Fox in 2013.
Murdoch may overcome the latest challenge without Alwaleed's vote, by counting on other supporters including activist investor Jeffrey Ubben. Ubben, whose ValueAct Capital Management began amassing Fox stock in 2014, was made a Fox director the following year in a standstill agreement that prevents him from starting a proxy fight or publicly criticizing Fox, among other conditions.
The Murdoch Family Trust and ValueAct together hold 45 percent of the Fox Class B voting shares.
Walt Disney Co. has held talks to acquire assets from 21st Century Fox, including its 39 percent stake in European pay-TV provider Sky Plc, a person familiar with the matter said this week. Fox's bid to take over the rest of Sky is under review by regulators in the U.K.
— With assistance by Anousha Sakoui
Before it's here, it's on the Bloomberg Terminal.
LEARN MORE