Rouhani Urges Saudi Arabia to Avoid Teaming Up With U.S. and Israel
By
Invokes Iran's might as sense of siege starts to take root

Hardliners, moderates united by fear of external threat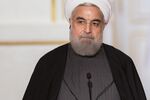 Iranian President Hassan Rouhani, invoking his country's might, advised Saudi Arabia not to team up with the U.S. and Israel against it, striking a defiant tone as hostility escalates between the regional rivals.
"You are well aware of the power of the Islamic Republic, and those bigger than you haven't been able to do much against the Iranian nation," Rouhani told his cabinet, according to state-run Mehr news agency. "If you think that the U.S. and Israel are your friends," it's a "strategic mistake," he added.
A siege feeling is starting to emerge in Iran as relations with Saudi Arabia and the U.S. worsen, unifying moderates and hardliners in the fractious nation of 80 million. Tensions deepened over the weekend, with a failed missile attack on Saudi Arabia's international airport by Iranian-backed Yemen rebels, and the Lebanese prime minister's surprise resignation in a statement from the Saudi capital, which faulted Iran and its militant Hezbollah proxy.
The sense of rising external threat came to the fore in the country's media.
'Dangerous Game'
'Dangerous game. What goals is Saudi Arabia pursuing with the military confrontation scheme?' the reformist newspaper Etemad's Nov. 7 front page read. An editorial in the conservative Siasat Rouz titled, 'Behind the curtains of the new Western-Arab-Hebrew game,' addressed the growing rapprochement between Saudi Arabia and Israel over their shared distrust of Iran.
The hardline Vatan Emrooz newspaper, which opposes Rouhani, ran a picture of Saudi Crown Prince Mohammed bin Salman shaking hands with President Donald Trump under the headline, 'Axis of Evil.'
Iran and Saudi are on opposite sides of a rivalry that spans Yemen, Iraq, Syria and Lebanon. The rapid-fire pace of the recent developments escalates the potential for conflict that would find President Donald Trump, a vocal critic of Iran, solidly lined up behind the House of Saud.
'Ominous and Destructive'
"Trump's America, Israel and Saudi Arabia are main partners in this ominous and destructive plan for a Middle East, which in recent months had been entering some stability and calm with the defeat" of Islamic State in Syria and Iraq, said Alaeddin Gharavi, a professor of political science at the School of International Relations, Iran's foreign service school.
Saudi Arabia's Prince Mohammed pressured Hariri to resign so that a "new phase of crisis, wrestling and confrontation with Iran can get started at this historic moment," Gharavi wrote in the Nov. 7 edition of the reformist Shargh newspaper with the headline 'the DC-Tel Aviv-Riyadh triangle.'
Diplomatic Pressure
On Nov. 5, just after Hariri's resignation, Israel sent a cable to its embassies requesting diplomats to ramp up diplomatic pressure against Iran and Hezbollah, Israel's Channel 10 news reported.
In his remarks to cabinet, Rouhani accused Saudi Arabia of meddling in Lebanon's affairs and having forced Hariri to step down. Earlier this week, Iranian Foreign Minister Mohammad Javad Zarif was combative in his remarks pointing to the Saudi-led military attacks on Yemen, saying Saudi Arabia "bombs Yemen to smithereens" and engages in "regional bullying," though "blames Iran for the consequences."
The U.S., Israel and Saudi "feel they are the painful losers of a game and an adventure that was meant to lead to Iran's degradation and unexpectedly turned it more powerful," read a Nov. 7 editorial in Vatan-Emrooz. Enemies and rivals perceive Iran as "imposing its principles" in the Middle East and "are seemingly rallying to prevent -- in their own prediction -- the whole region from being handed to Iran."
Before it's here, it's on the Bloomberg Terminal.
LEARN MORE