Rajoy Bets on Massive Election Turnout to End Catalan Crisis
By
Spanish premier looks to undecided voters in turnout push

Catalan snap ballot due Dec. 21 with polls showing tight vote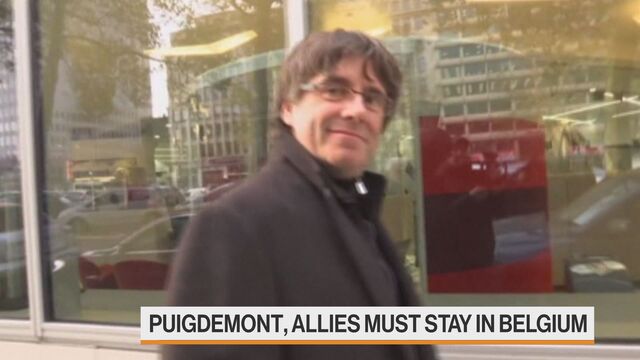 Prime Minister Mariano Rajoy is betting that he can uncover a silent, pro-Spain majority in Catalonia that can help him restore order to the rebel region.
Rajoy is seeking to boost turnout in next month's regional election on the basis that undecided voters will break decisively against separatists if they're drawn to the polls.
"I hope we see a massive turnout," Rajoy told lawmakers in the Spanish parliament on Wednesday in Madrid. "I hope people understand the importance of this election."
After an ill-fated declaration of independence last month, Catalans will vote for a new regional government on Dec. 21. Both sides have already started mobilizing voters, with the pro-independence parties saying this is an opportunity to cement their actions while pro-Madrid forces argue this is the best chance they've had to reset Catalan politics.
Catalan Protests
A poll by Barcelona-based newspaper La Vanguardia published Saturday, operating on the assumption of an 80 percent turnout, showed pro-independence party Esquerra Republicana winning the ballot, but no clear secessionist majority in parliament. Pro-union Ciutadans was seen adding seats alongside the Socialist party, which also opposes independence.

In Catalonia, separatist hardliners blocked transport links across the region on Wednesday morning, adding to the economic disruption that has seen more than 2,200 Catalan companies shift their legal base since the illegal referendum on Oct. 1.
The regional transport authority reported about 60 incidents of blocked roads by protests as of 9:54 a.m. The Catalan rail network Rodalies Catalunya said by Twitter their services were being affected by protesters on the tracks.
In response, Catalan police, known as Mossos d'Esquadra, said they were actively working to unblock roads. The role of the 17,000-member force is key in implementing the central government's direct rule in the region. Answering questions from rivals in congress, Rajoy said the transition was going smoothly and Catalan civil servants were playing their part.
Extradition Request
Meanwhile, Carles Puigdemont, the ousted Catalan leader in self-imposed exile in Belgium, is trying to revive his secessionist cause by seeking international support. He criticized the passive nature of European institutions after a judge in Madrid sent Puigdemont's former cabinet to jail pending an investigation into charges of sedition and rebellion.
Puigdemont faces five charges while the Belgian authorities work on Madrid's extradition request. Belgian Prime Minister Charles Michel told his parliament on Wednesday that diplomacy between the two nations remains strong and that Puigdemont's possible extradition is up to the courts.
"There is a political crisis in Spain, not in Belgium," he said. "The European arrest warrant is a case for the justice system, it's not for the Belgian government."
Puigdemont was dealt another blow on Tuesday when his former pro-independence ally, Esquerra Republicana, ruled out running on a single ticket in the December ballot. The Catalan leader had called on all pro-secession to join forces on a combined platform to increase their chances of winning and even floated his name as a candidate.
— With assistance by Charles Penty, and Marine Strauss
Before it's here, it's on the Bloomberg Terminal.
LEARN MORE