Poland Sees Brexit Transition as Way Out of Impasse on Bill
By
Linking transition and settlement may be way out of deadlock

Poland's deputy foreign minister speaks after meeting Davis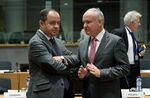 The U.K. needs to offer the European Union more detail about what it wants from a transition deal, and linking that to the divorce bill could be a way out of the deadlock in Brexit talks, Poland's deputy foreign minister said on Wednesday.
"Meeting the goals of the EU mandate concerning the financial settlement may be linked to progress on firming up the transition deal," Konrad Szymanski said in an interview after meeting U.K. Brexit Secretary David Davis in Warsaw. "This could be a solution to the impasse in negotiations."
Talks are deadlocked over the bill as the EU wants a settlement of about 60 billion euros ($70 billion), while the U.K. has so far committed to about a third of that, and is still going through the other demands "line by line." Another round of talks starts in Brussels on Thursday, with both sides aiming for a breakthrough in time for a summit in mid-December. 
Negotiations won't move on to the future trading relationship until EU leaders are satisfied that enough progress has been made toward reaching an agreement on the bill.
"We don't see a significant progress in talks concerning the financial obligations of the U.K., as both sides have different political assumptions on this," Szymanski said. He declined to comment when asked if Davis had presented a new offer on the financial settlement during their meeting: "Such elements of talks aren't public."
For Poland there's a lot at stake: It's the biggest net recipient of aid from the EU's budget. And with more than 1 million Poles working in Britain, it's also keen on getting a good deal for its citizens who want to remain in the U.K.
EU diplomats meet in Brussels on Wednesday to try to hash out a united position on what they seek from the transition deal that would come into effect after Brexit day in March 2019. Prime Minister Theresa May has said she wants the transition to last about two years, and the U.K. will continue to pay into the EU budget over the period.
Read more: EU to Sketch Out Brexit Transition in Bid for United Stance
"We welcome the EU's move to start their own preparatory work on how they see the future relationship working; that will allow us to accelerate talks once they are ready to participate in this conversation," Davis said in an emailed statement after the meeting. "At the December European Council we hope to rely on the support of our friends in Poland in progressing discussions to the next stage."
— With assistance by Tim Ross
Before it's here, it's on the Bloomberg Terminal.
LEARN MORE