Of the Newest Governors, New Jersey's Has the Bigger Financial Bind
By
Democrat's win changes control of pension-addled Garden State

In top-rated Virginia, election leaves a Democrat as governor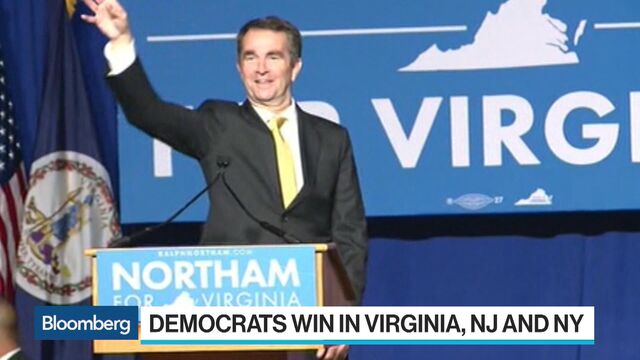 New Jersey Governor-elect Phil Murphy will have a much tougher time taking on the state's finances than Ralph Northam, his counterpart in Virginia.
Both were elected in the nation's only two governor's races Tuesday, marking significant wins for the Democratic Party. Northam will lead AAA-rated Virginia, which has held onto that rating since 1938, longer than any other state. 
New Jersey, meanwhile, at A-, is the second-lowest rated state and has faced a bevy of downgrades in the past few years, thanks to a massive debt to its employee pension system.
For Murphy's part, the political dynamics are in his favor. For the first time in eight years, New Jersey has one-party control in the executive and legislative branch, which "could yield the clearest public finance policy shift among states," Fitch Ratings said in a report Wednesday.
During the campaign, Murphy pledged to raise $1.3 billion through taxes on corporations, high earners and legalized marijuana, and apply the revenue to schools, transportation, health care and property-tax relief.
The yields on New Jersey's 10-year bonds widened to as much as 1.2 percentage points over top rated securities earlier this year and now stand at about 1 percentage point, according to data compiled by Bloomberg. On Wednesday, prices of some of the state's most actively traded bonds were little changed.
The retired Goldman Sachs Group Inc. senior director has condemned the under-funding of the state's pension plans, a trend that continued under Governor Chris Christie even though he contributed more to the retirement system than his predecessors. 
By 2016, the state had about $168 billion less than it will need to cover all the benefits that have been promised to employees. Among all 50 states, New Jersey has the most underfunded pension system in the country, according to data compiled by Bloomberg.
It will be a challenge to pay that down, said Lisa Washburn, a managing director at Municipal Market Analytics.
"It seems like a millionaire's tax is going to be woefully insufficient to make those payments and fund other spending priorities," she said.
The state will need to balance spending on social programs that Murphy has highlighted, such as more investment in community colleges, with keeping up with pension and OPEB costs, Washburn said.
"I don't see personally in the near-term credit rating boosts coming New Jersey's way," she said.
Before it's here, it's on the Bloomberg Terminal.
LEARN MORE