New York Gives De Blasio a Second Chance, Re-Electing Him as Mayor
By
First term included friction with police and Governor Cuomo

De Blasio seeks to make NYC the 'fairest big city in America'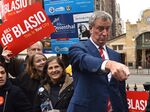 Democrat Bill de Blasio easily won a second term as New York's mayor, defeating Republican Assemblywoman Nicole Malliotakis in a city where only two incumbents have lost in the past 60-plus years.
Even with some polls showing de Blasio less popular than recent mayors, Malliotakis was unable to overcome Democrats' voter-registration edge of almost 7 to 1. De Blasio led Malliotakis 67 percent to 28 percent, with 99 percent of districts counted, according to the Associated Press. Turnout was about 20 percent.
Malliotakis, 36, was overmatched in spending and in name recognition. De Blasio promised continuation of several programs initiated in his first term: the financing of 300,000 affordable-housing units through 2026, the planned shutdown of the Rikers Island jail in favor of satellite-detention centers throughout the city, and increased homeless and mental-health services. 
"Over the next four years, my promise to you is that my administration will be relentless in our pursuit of fairness," de Blasio told a crowd celebrating his victory at the Brooklyn Museum. "Every decision -- no matter how big or small -- will be measured by whether or not it gets us closer to being the fairest big city in America."
Incumbent Edge
De Blasio's first term was punctuated by probes into his fundraising, arguments with Governor Andrew Cuomo, clashes with his own police force, rising homelessness and the failure of his national agenda.
Still, he had the advantage of being a Democrat and an incumbent. Since 1954, Abe Beame and David Dinkins are the only New York mayors who failed to get reelected. Beame lost amid a fiscal crisis, while Dinkins was narrowly defeated during a crime wave. No such extraordinary circumstance existed this year.
The city has benefited from 23 consecutive years of falling crime, with homicides on track to total less than 300 this year for the first time since the 1950s. Record private-sector employment has come with increases in tech, tourism, health and education jobs, the result of nine straight years of economic growth since the 2008 financial crisis.
For de Blasio, a self-described progressive who campaigned four years ago decrying the city's inequality between rich and poor, reelection gives him an opportunity to press his opposition to President Donald Trump and the Republican Party's agenda. He can increase his national advocacy of higher taxes on the rich and more federal spending on public housing, health care and education.
National Agenda
De Blasio, 56, who had to cancel a planned 2016 progressive presidential forum in Iowa when no candidates agreed to participate, has said he intends to try again to influence the debate in 2020. His name has even been mentioned by some pundits and political analysts as a long-shot candidate for the White House.
Speaking at his victory celebration, de Blasio set a goal to teach every child to read at peer level by third grade, and he pushed for a millionaires' tax to finance mass transit improvements. He vowed to make New York a national model for affordability and fairness.
"We've got to become a fairer city and we've got to do it fast," he said.
He also took aim at Trump, without mentioning his name but describing him as "a candidate who lost by 3 million votes and suddenly became president of the United States." He led the audience in cheers for the Democratic outcomes in New Jersey's and Virginia's gubernatorial races, and warned Trump, "If you turn against the values of your home town, your home town will fight back."
New Council
The next four years will bring expiration of contracts for most of the city's 300,000-member workforce. Renegotiating those deals could be made more difficult if a slowing economy produces smaller increases in city tax revenue, said George Arzt, a Democratic political consultant who served as press secretary to former Mayor Ed Koch.
De Blasio will also contend with a new city council, with at least 20 percent of 51 members entering as rookies, several of whom campaigned promising to be independent of the mayor.
"I suspect that in the next term the next city council will not be as compliant as the current one has been," said Letitia James, 59, who won reelection to the citywide post of Public Advocate.
She and city Comptroller Scott Stringer, also elected to a second term, have both expressed interest in running for mayor in 2021.
Their ambition -- and the fact that city law bars de Blasio from seeking a third term -- may reduce his clout and encourage them and other elected officials to contest his authority, Arzt said.
"Being a lame duck is going to be tough," Arzt said."He'll have less of a hold on the city's political class, and there's a good chance several on the city council won't listen to the mayor this time."
Before it's here, it's on the Bloomberg Terminal.
LEARN MORE