Menendez Jury Ends Third Day of Deliberation Without a Verdict
By and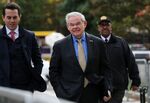 Jurors ended a third day of deliberations without a verdict at the bribery trial of Senator Robert Menendez, the New Jersey Democrat accused of taking official actions to help a top donor who paid him bribes for help with government disputes.
The panel, which was permitted to end its work an hour early on Wednesday, will continue on Thursday in federal court in Newark, New Jersey. U.S. District Judge William Walls has said that if the panel doesn't reach a verdict by Thursday, he will excuse one juror who has a previously arranged vacation. He would then appoint an alternate and the jury would start weighing the evidence anew on Monday.
Jurors had no questions for the judge on Wednesday, the second full day of deliberations. The panel deliberated for about 75 minutes on Monday. Menendez and Salomon Melgen, a Florida eye doctor, face an 18-count indictment, and jurors must wade through dozens of pages of instructions on the law.
Before it's here, it's on the Bloomberg Terminal.
LEARN MORE