Menendez Juror's Question About the Definition of 'Senator' Could Be Key
By and
Jury begins third day of deliberations in corruption trial

Senator accused of helping doctor in exchange for bribes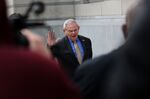 Jurors resumed deliberations at the bribery trial of Senator Robert Menendez on Wednesday, a day after one of the panelists asked the judge for a definition of a senator. 
U.S. District Judge William Walls declined to answer that simple question late Tuesday on the jury's first full day of deliberations in federal court in Newark, New Jersey. He also refused the juror's request for a transcript of Monday's closing argument by Menendez's attorney, Abbe Lowell. Walls told jurors that they should rely on their individual and collective memories to determine what Lowell said.
Why Menendez's Trial Comes Down to Bribe or Gift: QuickTake Q&A
But the juror's question, odd as it may have seemed, may go to the heart of Menendez's defense. Menendez, a New Jersey Democrat, is on trial with a Florida eye doctor, Salomon Melgen. The question may speak to whether Menendez had the authority to act on Melgen's wishes.
Menendez is accused of taking Melgen's bribes in the form of private jet travel, a Paris vacation and campaign contributions in exchange for pushing the doctor's business interests at the highest levels of the U.S. government.
In exchange for bribes, prosecutors say, Menendez helped Melgen with an $8.9 million Medicare overbilling dispute with the U.S. government, a private contract battle with the Dominican Republic government and the securing of visas for three of Melgen's girlfriends. 
'Official Acts'
Lowell, in his closing argument on Monday, said that prosecutors had failed to show that Menendez engaged in "official acts" as spelled out by the U.S. Supreme Court in a 2016 decision that overturned the conviction of former Governor Bob McDonnell of Virginia.
Walls, following the Supreme Court's lead, instructed the jury last week that an official act involves "any decision or action on any question, matter, cause, suit, proceeding or controversy" that may be pending or may be brought before any public official. 
Expressing support for a position by merely hosting an event, meeting with officials or taking a public position isn't the same as making an official decision or taking official action, Walls told jurors. The matter must be "more specific and focused than a broad policy objective," he said.
Lowell said Menendez, as a U.S. senator, "did not have the power to fix the issues" he raised with the State Department, the Health and Human Services Department or the Homeland Security Department.
'Their Decision'
"He could ask people to look at, please consider, give consideration for a visa," Lowell said. "At the end of the day, it was their decision to make."
Lowell also said Menendez "asserted his ability but never his power to act as a legislator" and propose a bill. He said that the senator was working on broad policy objectives and that none of his efforts succeeded for Melgen.
Lowell and Melgen's lawyers also argued that both men have had a long friendship and had no corrupt intent when they exchanged gifts.
Before it's here, it's on the Bloomberg Terminal.
LEARN MORE