Macron Keeps Hand in German Coalition Talks in Europe Vision Bid
By
French Finance Minister Le Maire meets with Lindner in Berlin

Macron needs German backing for his European integration push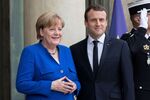 French President Emmanuel Macron is keeping his hand in Chancellor Angel Merkel's efforts to form a new German coalition.
His Finance Minister Bruno Le Maire is spending Wednesday in Berlin, meeting with key players in Merkel's coalition talks. Le Maire is seeing both Christian Lindner, the head of the Free Democratic Party, and Cem Ozdemir, of the Greens -- parties Merkel needs to form a new government. Le Maire will also meet Wolfgang Schaeuble, now head of the Bundestag, and Finance Minister Peter Altmaier.
The visit is a reminder of how much France's six-month-old government has at stake in how the jostling for power in Berlin plays out. Macron has consistently pressed for more euro-area integration to bolster the region's growth potential, while Lindner, who's party is set to be Merkel's coalition partner outside her own group, has repeatedly warned against moving toward a system of great financial transfers to other European countries.
"Macron has begun by reforming the French economy so that he can then move up a gear to reform European institutions," said Philippe Waechter, chief economist at Natixis Asset Management in Paris. "The German coalition agreement will determine what can be done at the European level."
Macron's Vision
Just two days after Germany's Sept. 24 general election, Macron laid out an ambitious vision of the European Union in which he called for the bloc to defend its interests and project its values in a globalized world. The proposals touch on topics as diverse as immigration and education, with the economy as its center piece. Macron and Le Maire are seeking greater risk sharing at the European level, possibly even a budget for the region.
Merkel has signaled openness to Macron's proposals to further integrate the European Union and the euro area, creating a bloc better insulated against shocks. For their part, the German Greens have expressed enthusiasm for the French president's push. The Free Democrats have been a lot chillier, raising the specter of a system where beleaguered member states seek "money pots," predominantly funded by Germany.
"It's true that the debate between Germany and France is difficult," Bank of France Governor Francois Villeroy de Galhau said Tuesday. "But I'm absolutely convinced that a certain number of German leaders have a sense of the historic opportunity in front of us.' '
Before it's here, it's on the Bloomberg Terminal.
LEARN MORE