New Marks & Spencer Chairman Speeds Revamp as Food Struggles
By
Clothing stores to be shut faster, food expansion to slow

Chairman Archie Norman stamping authority on retailer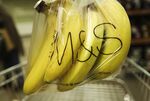 New Chairman Archie Norman is stamping his authority on Marks & Spencer Group Plc as the U.K. retailer reported a slowdown in the food business that has driven growth in recent years as the clothing unit struggled.
Chief Financial Officer Helen Weir will leave and M&S will scale back planned food-store openings, the retailer said Wednesday as it reported a decline in profit. Customers, squeezed by stagnant wage growth and Brexit-induced inflation, are being cautious in their spending, the company said. Its shares fell as much as 3.6 percent in London but recovered much of that ground.
"Over the last 15 or 20 years, the business has failed to change in line with the customer and as fast as the competition," Norman said at an analysts' meeting. "The genesis of any turnaround of this scale starts with the recognition of the unvarnished truth."
Wednesday's announcements reflect increased urgency at the top since Norman's arrival two months ago, after some investors saw the initial plans made a year ago by Chief Executive Officer Steve Rowe, a 28-year company veteran, as too tentative. Norman gained a reputation as a corporate turnaround specialist after steering grocer Asda away from bankruptcy and eventually selling the chain to Wal-Mart Stores Inc. in 1999.
M&S will rein in its plan to open 250 new food stores over the next two and a half years, as profits suffer amid rising inflation and intense competition. Rowe conceded that M&S was also to blame for the weaker performance and that ranges needed to be simplified and availability improved.
"Archie Norman's appointment is bound to have upped the pressure on Steve Rowe," Tony Shiret, an analyst at Whitman Howard, said by email. "Today's announcements are more extensive than we had thought likely and maybe point to a more unstable position in the food business than anyone considered likely."

M&S now expects gross margins in its upmarket food business to decline by between 125 basis points and 75 basis points this year. Previously the company had expected the decline to be no worse than 75 basis points. Weir said given the prevailing market uncertainty it would be unwise to plow ahead with new openings as planned and the retailer would be opening 80 Simply Food stores, 10 fewer than planned, in its current financial year.
Executive Upheaval
M&S has begun a search to replace the 53-year-old Weir, who will continue until it has found a successor. Her departure adds to the upheaval at the top of the retailer after clothing director Jo Jenkins, who had been given responsibility for menswear and children's wear only a month before, departed in October.
Jenkins was overlooked for the top job in M&S's clothing business, which was given to Jill McDonald, the former Halfords Group Plc CEO, in May. 
The management update came as the company said adjusted pretax profit fell 5.3 percent to 219.1 million pounds ($288 million) in the first half, surpassing analysts' estimates for profit of 201 million pounds.
That was driven in part by a better-than-expected performance in the clothing business, where same-store sales fell 0.1 percent in the second quarter, surpassing analysts' estimates for a 2 percent decline. Rowe's efforts to simplify ranges and cut prices on basic lines are helping stem a five-year slump in sales.
M&S will speed up plans to close at least 30 clothing stores and relocate or shrink 45 others over five years, reflecting a shift to more online apparel spending. Rowe declined to say how quickly stores would be shut.
The scale of the planned cutbacks in the food business was also unclear. Weir said only that there would be more than a 10 percent reduction in planned openings and less than a 90 percent reduction.
"We suspect investors will welcome the direction of travel, and applaud the sense of urgency, conveyed in this strategy update," Geoff Ruddell, an analyst at Morgan Stanley, said by email. "Though we suspect they would have liked it to be more quantitative."
Before it's here, it's on the Bloomberg Terminal.
LEARN MORE