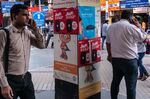 The past few weeks have been rough for billionaire Anil Ambani's Reliance Communications Ltd., once India's second-largest wireless operator. Two key deals aimed at paring debt collapsed, and it missed interest payments, sending its stock and bonds tumbling to record lows. The company, known as RCom, is suffering amid a shakeout in the world's second-largest mobile market by subscribers. It also has a tough new competitor: Reliance Jio Infocomm Ltd., which is backed by the Ambani's older (and much richer) brother, Mukesh. The company's crisis has been years in the making, with declining profits, mounting debt and a series of failed deals cooking the soup it finds itself in now.
1. Why did things go so wrong for RCom?
The mobile-phone carrier saw declining profits for six out of seven years, then posted its first annual loss in the year that ended March 31. Part of the reason: Deep-pocketed Reliance Jio entered the market and disrupted the telecom sector by offering free calls and data, which triggered a price war. Since Mukesh Ambani's company, known as Jio, began services in September 2016, RCom shares have tumbled more than 70 percent. As losses piled up, RCom struggled to repay debt, which totaled almost $7 billion as of March 31, according to its annual report.
2. What has it done to cut debt?
The company announced plans to spin off its wireless business and merge it with rival Aircel Ltd. in September 2016. A month later, it said it would sell phone towers to Brookfield Infrastructure Group for $1.7 billion. Both deals were crucial to paring debt levels. But the Aircel deal collapsed in October, with RCom blaming "legal uncertainties" and delays in the regulatory-approval process. That led to the scuttling of the Brookfield deal. Last month, RCom said it would scale back its 2G and 3G businesses and focus on fourth-generation service, riding on infrastructure-sharing agreements with Jio. On Nov. 6, RCom said it's selling its satellite-TV business, Reliance BIG TV, to Veecon Media & Television.
3. How are its lenders responding?
Indian banks gained themselves an 18-month grace period through a loan-recovery program, Strategic Debt Restructuring, overseen by the Reserve Bank of India. Under the terms of that program, RCom said it has offered local lenders 51 percent equity in the company in exchange for retiring 15 percent of the total debt. RCom, meantime, would repay as much as 270 billion rupees in debt by selling spectrum, towers and real estate. 
4. Can RCom be saved?
Its lenders have the task of reviving RCom by December 2018, the 18-month deadline under the loan-recovery program. As India's telecom industry goes through a shakeup, any potential buyers of struggling firms could wait until values drop further. Banks, meanwhile, have become wary of lending to wireless operators.
5. How do the Ambani brothers fit in?
Mukesh, 60, is India's wealthiest person, with an estimated net worth of $37.5 billion, while 58-year-old Anil has a net worth of $2.3 billion, according to the Bloomberg Billionaires Index. Though the once-feuding brothers have reconciled, neither Mukesh Ambani nor Reliance Industries Ltd., Jio's parent, has offered to bail out RCom. Still, the two companies have infrastructure sharing agreements across their spectrum holdings, tower and fiber assets and Jio is said to be interested in some assets that RCom is selling.
6. Why did RCom miss a bond payment?
RCom's liquidity situation is precarious. It failed to pay interest due Nov. 6 on a dollar bond, and said that no interest or principal was being repaid to any lenders or noteholders as it is in a "standstill period" until December 2018. The price of the bonds that it missed the coupon payment on crashed to about 35.6 cents on the dollar, according to Bloomberg-compiled prices. The firm failed to pay interest within the grace period of seven days, resulting in a default, meaning the trustee can demand immediate repayment provided one quarter of the noteholders direct it to do so. The company informed exchanges Nov. 11 that it also missed interests payments due in November on two rupee-denominated securities, sending its bonds and stocks to a record low.
7. What about its competitors?
Aircel, controlled by Malaysian billionaire T. Ananda Krishnan, is looking vulnerable after the merger deal with RCom collapsed. Bharti Airtel Ltd, India's no. 1 operator, has raised its capital spending and picked up assets from several distressed smaller rivals this year -- Tata Teleservices Ltd., Telenor, Tikona Digital Networks -- to preserve its lead. But it's unlikely to be enough as Vodafone Group Plc and Idea Cellular Ltd. announced in March plans to merge operations in India to create the nation's largest carrier by subscribers, surpassing Bharti.
The Reference Shelf
Before it's here, it's on the Bloomberg Terminal.
LEARN MORE