Five Things You Need to Know to Start Your Day
Get caught up on what's moving markets.
By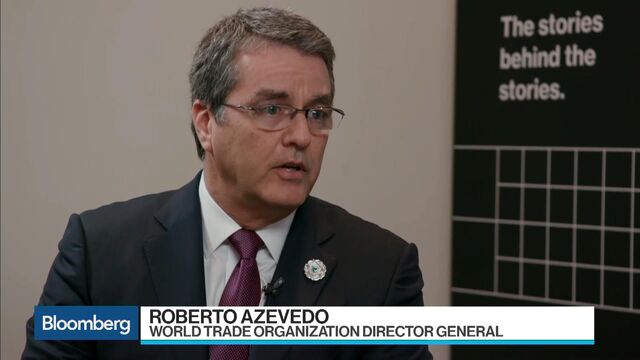 Want to receive this post in your inbox every morning? Sign up here
President Trump arrives in China, the U.K. government faces more trouble, and Saudi Arabia seeks to calm fears. Here are some of the things people in markets are talking about today.
Trump in China
President Donald Trump landed in China this morning for a two-day visit where he's looking to win concessions on trade and the country's stance on North Korea. He arrives on the anniversary of the U.S. election, during which he campaigned strongly against China's export practices, which ups the pressure for a victory on trade. At home, there was bad news for the GOP in the key Virginia election that saw Democrat Ralph Northam beat Republican Ed Gillespie to become the next governor. 
More May woes
British Prime Minister Theresa May is on the brink of losing another government minister after she ordered Priti Patel, her international development secretary, to return from a trip to Africa after she admitted to several unauthorized meetings with Israeli officials. Should Patel lose her position, it would come only a week after May's defense secretary Michael Fallon quit his post. As the domestic drama plays out, banks are losing patience with the lack of progress over a Brexit deal, with the Financial Times reporting that Wall Street financial institutions told U.S. Commerce Secretary Wilbur Ross they may need to start moving "thousands" of jobs out of the city. 
Saudi Arabia reassures
The shakeup in Saudi Arabia is making investors in the region nervous, with Gulf stocks losing $6.8 billion since the weekend. Saudi authorities sought to ease those worries by saying they are only freezing the personal bank accounts of individuals, and not those of the companies they own or manage. The U.S. has encouraged Saudi Arabia to prosecute the arrested princes and billionaires, saying the kingdom's government has provided assurances of a "fair and transparent" legal process.  
Markets slip
Overnight, the MSCI Asia Pacific Index rose 0.2 percent, Japan's Topix index rose by a similar clip, and the Nikkei 225 Stock Average slipped 0.1 percent. In Europe, the Stoxx 600 index was 0.2 percent lower at 5:45 a.m. Eastern Time as disappointing bank results pulled the market lower. S&P 500 futures were broadly unchanged, the 10-year Treasury yield was at 2.311 percent, and gold was higher. 
Where next for oil
A barrel of West Texas Intermediate for December delivery was trading slightly lower at $57.09 at 5:45 a.m. Yesterday's forecast from OPEC that U.S. shale production will grow even faster than previously projected and technical factors have analysts warning that the recent Saudi-spurred rally lacks legs. Analysts say that WTI prices over $60 will spark hedging and a production uplift of as much as 1.5 million barrels a day in the U.S. 
What we've been reading
This is what's caught our eye over the last 24 hours.
Before it's here, it's on the Bloomberg Terminal.
LEARN MORE