EU Plans Venezuela Arms Embargo, Adding to Maduro's Pressures
By and
European Union may also ban travel for Venezuelan officials

Move would add to sanctions already imposed on Maduro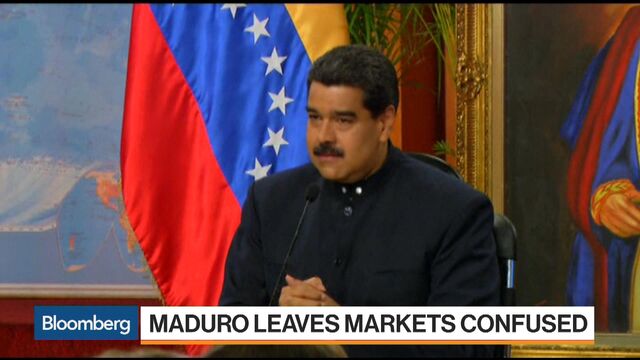 The European Union plans to ban the sale of arms and surveillance technologies to Venezuela, the latest move to pressure authoritarian President Nicolas Maduro.
The measures were endorsed by ambassadors from the 28-nation EU at a meeting Wednesday in Brussels and will be put to the bloc's foreign ministers for approval when they meet in the Belgian capital Nov. 13, according to an EU official who spoke on condition of anonymity. The EU also may ban travel for Venezuelan officials and freeze their assets, according to the official.
The punishments would lengthen the list of sanctions already imposed on Maduro and his top officials by the U.S. after their crackdown on the political opposition. Maduro this year installed a legislative super-body, the constituyente, packed with loyalists to rewrite Venezuela's constitution and persecute opponents.
The U.S. Treasury Department barred trading of new debt by the government and state oil company Petroleos de Venezuela SA, or PDVSA. Last week, Maduro blamed the move for "choking" the country's access to credit and said he would seek to restructure all sovereign and PVSA debt. Other rounds of sanctions have targeted senior individuals in Maduro's administration, including Vice President Tareck El Aissami and PDVSA Chief Financial Officer Simon Zerpa Delgado.
Before it's here, it's on the Bloomberg Terminal.
LEARN MORE