Egypt's Sisi Says Pound to Strengthen as Float Met Dollar Needs
By and
Sisi says pound not at fair value, but problems solved

Sisi does not give numbers, dates for exchange rate shift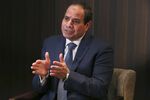 Egyptian President Abdel-Fattah El-Sisi said Wednesday he expected the pound to strengthen because the decision to float the currency and lift most capital controls a year ago had eased an acute hard-currency shortage.
Even if the exchange rate "hasn't reached a level that we can say is fair, at least in less than a year we solved a lot of problems. Will it drop a little in the coming period? I expect that," El-Sisi told a media briefing, referring to the price of the dollar relative to the pound. "Because all the measures and problems due to the protected exchange rate, especially in the three years before the float, I think all these problems have been solved."
Bloomberg Intelligence: Egypt to Keep Narrowing Trade Gap After Devaluation
Egypt floated its currency in November 2016, lifting most capital controls in an effort to end a hard-currency shortage that nearly crippled trade and investment. Egypt's foreign currency reserves have recovered since the float, and foreign funds have invested heavily in Egyptian debt. The pound has halved in value, however, helping push inflation above 30 percent and squeezing the country's substantial middle classes and causing pain for millions who live a paycheck from hunger.
Fearing public anger, Egyptian governments had for decades shied away from considerable changes in the country's exchange rate regime as well as from the deep subsidy cuts that Egypt has implemented in tandem with the float as part of a reform program backed by the International Monetary Fund. But El-Sisi's government has plowed ahead with structural reforms and Egypt secured a $12 billion IMF loan package days after the flotation.
Speaking in January, as the Egyptian public smarted from a sudden collapse in the value of the pound, El-Sisi said it would likely strengthen over the next six months. Still, the currency has hovered stubbornly around 17.5 to the dollar for months. El-Sisi on Wednesday reiterated the view that the pound would recover, but did not say what exchange rate he would consider fair or how long it might take to get there.
"What is coming is that we will see an exchange rate that is different than the number we see now," El-Sisi told the briefing on the sidelines of a state-organized youth conference in the Red Sea resort of Sharm El-Sheikh.
Before it's here, it's on the Bloomberg Terminal.
LEARN MORE