Saudi Ally El-Sisi Says Opposed to War With Iran, Hezbollah
By
Sisi says Arab, Gulf security a priority for his country

Saudi stable, anti-corruption drive internal issue, Sisi says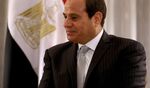 Egyptian President Abdel-Fattah El-Sisi said he was opposed to any war with Iran and its Lebanese proxy Hezbollah, and that Gulf tensions should be handled cautiously to avoid adding to regional turmoil.
El-Sisi's comments come as Saudi Arabia's anti-corruption purge and a deepening feud with Iran prompt speculation that the region could be on the cusp of a new war. Rising tensions have spurred a selloff across Gulf stock markets to the tune of almost $7 billion.
"Our point of view when it comes to new troubles with either Iran or Hezbollah or any other issue is that we have to deal with great care so as not to add to the challenges and troubles of the region," El-Sisi said in a news briefing in the Red Sea resort of Sharm El-Sheikh. "I am against war."
At the same time, he warned Iran not to meddle in Arab security. "We call for not increasing tensions in the region, but not at the expense of Arab and Gulf national security," he said.
Sunni-led Saudi Arabia, a close ally of Egypt, and Shiite-led Iran are on opposite ends of Middle East conflicts that span Yemen, Iraq, Syria and Lebanon.
Saudi Arabia has blamed Iran for an attempted missile attack on Riyadh's international airport, saying it could be a considered an act of war. The missile was fired by Iranian-backed Houthi fighters in Yemen on Saturday and intercepted by Saudi air defenses.
Iran, which has denied arming the Houthis with the missile, warned Saudi Arabia not to team up with the U.S. and Israel against it as speculation over a potential conflict swirled. Lebanese Prime Minister Saad al-Hariri's surprise resignation in a statement from Riyadh blaming Iran and Hezbollah for his departure added a new twist to the turmoil.
El-Sisi, speaking on the sidelines of a government-organized youth conference, lent his support to Saudi Arabia's declared anti-corruption drive, which has rounded up dozens of royals, current and former ministers, and businessmen, saying the situation in Saudi Arabia was stable and reassuring.
"I have confidence in the kingdom's leadership," he said, calling the campaign of arrests an "internal issue."
The purge comes two weeks after Crown Prince Mohammed Bin Salman unveiled plans for a futuristic new city on the Red Sea to be called Neom. The city will link with Egyptian territory and El-Sisi said Egypt was preparing infrastructure in Sinai and building roads to connect to the venture.
El-Sisi, who was elected in 2014, also said he had yet to decide whether to run for a second term in elections expected to be held next year.
The former military chief, who ousted the Muslim Brotherhood from power in mid-2013, has cracked down on opposition but has also carried out dramatic economic reforms in Egypt. El-Sisi said he expected the pound, which has halved in value since it was floated a year ago, to strengthen.
Before it's here, it's on the Bloomberg Terminal.
LEARN MORE