Democrats Win by Reclaiming Coalition That Failed Them in 2016
By and
Northam's Virginia victory driven by women, younger voters

Race had been bellwether on running in age of Donald Trump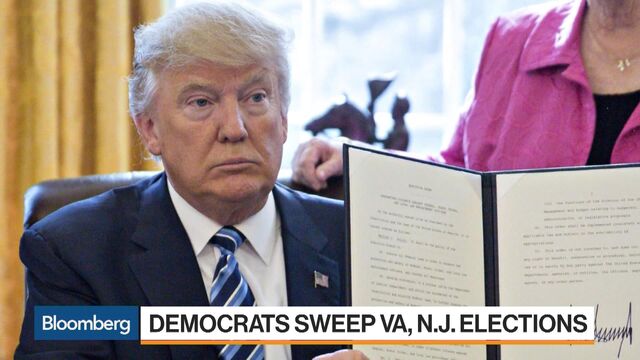 Democrats won a sweeping statewide victory in Virginia by energizing the coalition that was supposed to carry them into the future but failed them in 2016: young voters and women.
The nine percentage point win by Democrat Ralph Northam over Republican Ed Gillespie for governor was far greater than his lead in polls before Tuesday's voting, and the party captured races from the top of the ballot to the bottom. In the only other governor's race in the U.S., Democrat Phil Murphy won as expected in New Jersey, but Democrats also picked up two seats previously held by Republicans in state Legislature.
Along with a smattering of other results around the country -- including a vote in Maine to expand Medicaid -- the races gave Democrats some hope that they can translate President Donald Trump's historically low approval ratings into a wave in the elections a year from now that will decide control of Congress.
"Every cycle after the presidential election people try take away national lessons from New Jersey and Virginia and are almost always off-base," said Patrick Murray, a pollster who tracked both governors races for Monmouth University. "I think this is the first time that this off-year election did actually have national implications."
Key for Democrats in Virginia was turnout by voters who have been central to the party's national election strategy for decades. Northam won women by 22 percentage points on Tuesday, outmatching Hillary Clinton a year earlier, when women backed her over Trump, 56 percent to 39 percent, according to NBC News exit polls. Among voters 18-29, Northam beat Gillespie, 69 percent to 30 percent, a margin that doubled Clinton's performance a year earlier.
Suburban Votes
Northam's margins in the Virginia suburbs just outside Washington may be the biggest boon for Democrats, according to an analysis by Greg Giroux of Bloomberg Government. In Fairfax County, Northam won by more than 137,000 votes, which was more than twice incumbent Democratic Governor Terry McAuliffe's margin there in 2013 and even exceeded former President Barack Obama's margins in 2008 and 2012.
In Prince William and Loudoun Counties, which until recent years were reliably Republican, Northam won by 23 points and 20 points respectively, according to Giroux.
Trump, whose approval rating in Virginia hovers in the 30s, never campaigned in person for Gillespie. Instead, the president's support came mostly on Twitter as other Republicans from Mike Pence to Marco Rubio went to the commonwealth to campaign. In the waning moments of the race, Trump recorded a call to voters on Gillespie's behalf.
Trump's Issues
While keeping the president at arm's length, Gillespie, a former Republican National Committee chairman and lobbyist, embraced Trump's positions on some of the most divisive issues of the day. He ran advertisements decrying NFL players who kneel in protest during the national anthem and warning of Latino gangs going unchecked in sanctuary cities. Gillespie opposed the removal of Confederate monuments in a state that served as the seat of the breakaway region more than 150 years before.
Republicans were quick to point out that Virginia and New Jersey were won by both Clinton and Obama. But in state elections, Republicans have remained competitive. Murphy will replace Republican Chris Christie in the New Jersey's governor's mansion, and Republicans have occupied the Virginia governorship, which limited to one term, for three of the previous six administrations.
Murphy pointed to two Democratic pickups in legislative races in New Jersey. Democrats have "maxed out" the legislative maps in the Garden State and hold every reliable seat they can under the 40 districts drawn after the last census. Democrats picking up seats in state Senate districts that had been reliably Republican, showed that voters were sending a message to the White House, he said.
'Nationalized' Campaign
Representative David Brat, a Virginia Republican who unseated one of his party's leaders in an upset victory in 2014, said he was surprised by Tuesday night's results. He said Democrats won by making the race about broader issues.
"They nationalized a campaign we failed to nationalize," he said.
Brat said Gillespie would have fared better had Republicans managed to pass health-care and tax legislation. To keep control of the House of Representatives, Republicans had "better not face-plant on taxes like we did on healthcare," Brat said.
In the aftermath, Democrats in Congress sought to nationalize the results by injecting it into the battle over the Republicans' still-unfinished tax legislation. Senate Minority Leader Chuck Schumer of New York said the middle- and upper-income suburban voters who helped elect Northam would be hurt by provisions in the tax plan.
"The election results should be a stop sign for Republican efforts to pass their tax bill," Schumer said in Washington.
Republicans face a historical headwind, as well. The president's party typically loses seats in Congress in the first mid-term election.
Representative Dan Donovan, a New York Republican, said it's too soon to say if next year's environment will be difficult for Republicans. 
"There's a long time between now and then," he said. "A lot of thing are gonna change between now and then, some for the better, some for the worse maybe, I'm not sure."
— With assistance by Margaret Talev, and Laura Litvan
Before it's here, it's on the Bloomberg Terminal.
LEARN MORE