Davis Plays Up Military Symbolism on Brexit Diplomacy Drive
By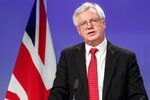 As Brexit Secretary David Davis takes a diplomatic tour of Europe to press his case in the divorce talks, a military theme has been emerging.
On Tuesday, it was Rome, to meet Italian Europe Minister Sandro Gozi and then to visit officials working on Operation Sophia -- the European Union mission rescuing migrants in the Mediterranean. Davis's Brexit department tweeted that a third of those helped were picked up "using U.K. assets." 
On Wednesday, it was Warsaw, where Davis visited the Tomb of the Unknown Soldier and met U.K. troops deployed in Poland.
It may not be very subtle. But Britain wants to make sure EU countries don't forget that it's got a big, useful army and effective intelligence services. Prime Minister Theresa May has said Britain's commitment to Europe's security is unconditional, moving away from earlier suggestions that U.K. resources could become a bargaining chip.
"We have a historic and deep relationship with Poland, which will endure long after we have left the European Union," Davis said.
Before it's here, it's on the Bloomberg Terminal.
LEARN MORE