Conoco's $1 Billion Boost Signals Staying Power of U.S. Oil
By
Explorer sees drilling budget, production rising through 2020

CEO Lance: Oil price roller-coaster is 'here to stay'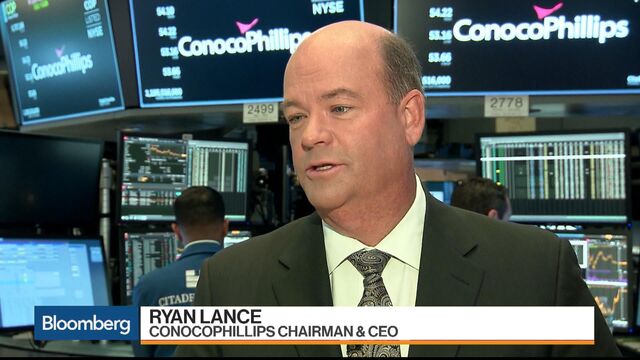 ConocoPhillips has sent a clear signal to global energy markets: For all the recent talk of caution among U.S. drillers, the industry's still in growth mode.
The world's biggest independent oil explorer said on Wednesday it expects its capital spending to average about $5.5 billion a year in the next three years, according to a statement released before its annual analyst conference in New York. That would be $1 billion, or 22 percent, over what Houston-based Conoco has forecast for its budget this year.
Conoco and other U.S.-based drillers have preached restraint in recent months, bowing to investors who fumed about the industry spending on new shale wells as dividends and stock prices withered. With Wednesday's projections, Conoco tried to establish a middle ground, promising more share buybacks but also more production. The company cut its capital budget twice this year and sold off $16 billion in wellfields in the U.S. and Canada.
"There is (finally) some acceleration in capital spending," said Pavel Molchanov, a Raymond James Financial Inc. analyst who covers the exploration and production, or E&P, industry. "Clearly there is greater willingness to invest in organic production growth. But this will remain one of the more capital-disciplined E&Ps, and the market will appreciate the continuation of share buyback."
Surprise Build
In another sign America's drilling machine keeps on rolling, the Energy Department reported a surprise increase in U.S. crude stockpiles on Wednesday. West Texas Intermediate oil futures fell as much as 1.4 percent in New York trading before regaining some ground to settle near $57 a barrel.
In comments to analysts, Conoco Chief Executive Officer Ryan Lance said the volatility in energy markets is "here to stay," and that the company is focused on ensuring it can ride out the waves. After unloading less profitable properties over the past year, Conoco touted the $40 average break-even cost for its wells. It can now keep its production flat for $3.5 billion a year, leaving room to pay dividends and grow even if oil prices retreat.
"It was a pretty lonely place to be a year ago, and I think people have come around to the value proposition of returns versus just absolute growth," Lance said in a Bloomberg TV interview.
Conoco said it would extend a $1.5 billion a year buyback program by another year into 2020, for a projected total of $7.5 billion. At the same time, it expects underlying production to grow by a compound annual growth rate of about 5 percent a year through 2020. Its higher exploration budget is predicated on WTI oil prices of $50 a barrel.
"What we think we've found here is a sweet spot" that balances growth and returns, Conoco Executive Vice-President Matt Fox told analysts at the conference. 
Conoco produces oil and natural gas from Alaska to Libya to Australia. The shares were little changed at $53.52 in New York trading at 4:15 p.m. on Wednesday. Before today, the shares had climbed 6.7 percent for the year, putting the company among the top performers on the S&P 500 Energy Index, which has slid 6.5 percent for the year.
The Organization of Petroleum Exporting Countries surprised investors on Tuesday by boosting its long-term estimate for growth in North American shale production by 56 percent from a year earlier. The 12-nation group now expects output from the continent's shale wells -- which weren't even a blip on worldwide markets a decade ago -- to reach 7.5 million barrels a day in four years.
Although the group's historic deal for production limits have fueled a 42 percent price rally since late June, OPEC Secretary-General Mohammad Barkindo on Tuesday signaled the producers' determination to stay the course through the end of 2018.
Lance said Conoco isn't counting on a sustained run in prices. "If you asked me to be a betting man today and I had to average the price over the next five or six years, we're not making bets on a higher price. I think if you need that higher price to bail out your business model, you're going to be really disappointed."
— With assistance by Joe Carroll
Before it's here, it's on the Bloomberg Terminal.
LEARN MORE