China Clears Way for Top Xi Aide to Lead New Risk Watchdog
Bloomberg News
Body overseeing regulators holds first meeting since congress

Choice of leader shows Xi cadre Liu He may be the next in line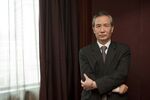 China appointed 71-year-old vice premier Ma Kai to lead a top-level committee on financial oversight, a sign the job may soon pass to the recently-promoted Liu He, a key economic adviser to the president.
President Xi Jinping announced the establishment of the State Council Financial Stability and Development Committee at a twice-a-decade National Financial Work Conference in July, giving it the power to oversee the work of the country's four regulatory bodies.
Having such a high-ranking member lead the committee shows that curbing risk in China's $40 trillion financial industry has been given fresh priority amid increasingly intertwined business between China's banks, brokerages, asset managers and insurers.
Ma's appointment comes after the elevation of Liu, 65, to the Communist Party's Politburo in October, making him Xi's top financial and economic policy official and a clear candidate to take over at the helm of the new regulatory panel. Ma is one of the country's four vice premiers and has been in charge of macroeconomic policies, but he wasn't elected to the Politburo after the recent party congress, indicating he'd step down from his post as vice premier soon.
"The appointment of Ma shows the head of the committee is a premier-level job," said Hu Xingdou, an economics professor at the Beijing Institute of Technology. "Whoever succeeds Ma will take over the job -- and it's very likely to be Liu He."
Liu is just one of the dealmakers behind Xi: read more here.
Appointing Liu to lead the committee would underline the urgency with which policy makers are now approaching reform of their financial system. People's Bank of China Governor Zhou Xiaochuan has been leading the charge, pointing to the risks posed by "very high" corporate borrowing in China. Zhou, who is expected to retire soon, also warned of a so-called Minsky Moment, when asset values collapse after a period of excessive optimism.
Details of the new regulatory framework have been slow to emerge, potentially inviting criticism that China should have melded all the watchdogs together into one "super-regulator" with the clout to force deleveraging and balance-sheet repair. With economy-wide debt approaching 260 percent of output, the question of how to manage it has become more urgent.
For now, Ma's appointment indicates that "preventing financial risks will be the focus in the future, and measures to cut leverage and deflate bubbles will continue," said Zhou Hao, an economist at Commerzbank AG in Singapore.
Harvard Economist

But it's Liu who may be waiting in the wings. At a reception for U.S. President Donald Trump in Beijing on Thursday, his closeness to Xi was evident: he was seated two places away from the head of state. A Harvard-educated economist, Liu has played a pivotal role in developing the relationship between China and the U.S.
Read more here about Trump's visit to China and his comments on trade.
As global financial markets cratered in 2009, then-U.S. Treasury Secretary Timothy Geithner and National Economic Council Director Lawrence Summers separately made time to meet with Liu, who was seen as a conduit to China's top leaders, Bloomberg News reported at the time.
Speaking at the financial stability committee's first meeting, Ma said China will maintain prudent monetary policy, enhance coordination among financial regulators, increase the ability to prevent financial risks and safeguard national financial security, according to a statement on the government's website released late Wednesday.
Here are the committee's responsibilities as listed in the statement:
To deliberate major reform and development for the financial sector
Coordinate financial reform, development and regulation, coordinate issues concerning monetary policy, coordinate the making of financial policies and related fiscal and industrial policies
Analyze international and domestic financial situations, address international financial risks, conduct policy research on systemic risk prevention and treatment
Guide local financial reform, development and regulation
— With assistance by Ye Xie, Keith Zhai, and Yinan Zhao
Before it's here, it's on the Bloomberg Terminal.
LEARN MORE