Citroen Wants to Be Like Cartier and Cognac (in China)
By
Peugeot maker plans to hire Chinese celebs to woo local buyers

The automaker's deliveries in world's biggest market tumble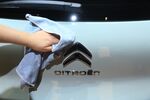 Chinese consumers' love of French brands has been a boon to Cartier and Louis Vuitton, and inspired Remy Cointreau to offer $80,000 bottles of cognac. Now the largest French automaker is hoping to put its high-end sport utility vehicles on that list.
PSA Group, the producer of Peugeot, Citroen and DS autos, wants to shed its image as a budget brand whose drab designs don't merit the European premium it's demanding. It's betting that bigger, better vehicles -- like the DS7 Crossback SUV and Citroen C5 Aircross -- will bolster margins and improve sales in China, which fell by almost half in the first nine months of this year. 

"This market doesn't want face-lifted European cars, but new and increasingly connected cars," Denis Martin, PSA's head of China and Southeast Asia, said in an interview. He acknowledged gaps in the company's product offerings, with too many compacts and too few SUVs at a time when increasingly affluent Chinese consumers are favoring larger vehicles.
China's burgeoning market is a crucial counter-weight for the Paris-based carmaker, whose reliance on Europe pushed it to the brink of bankruptcy three years ago. That dependence deepened this year: with the purchase of General Motors Co.'s operations on the continent, Europe now accounts for more than 70 percent of sales. The company will lay out its turnaround plan for the Opel and Vauxhall brands tomorrow.
Read here for more on the expected impact on Opel on PSA's results
Grabbing a bigger slice of the competitive and rapidly changing Chinese market won't be easy, said Benjamin Cavender, a Shanghai-based analyst at China Market Research Group. In addition to introducing attractive models that fill an appetite for larger cars, PSA will have to invest millions on new dealerships and a marketing blitz, he said. 
It needs "to let people know what the brand stands for and why consumers should care," said Cavender. "Today, barely anyone knows about them."
Chief Executive Officer Carlos Tavares, who took over in 2014 to pull PSA out of its slump, moved Martin to Asia from Europe a year ago and swapped out the head of its joint venture with partner Dongfeng Motor Group Co. Now the company is looking to name a Chinese head for the Citroen brand after recruiting local marketing and sales managers, Martin said. It's also signing up Chinese celebrities, like actor Wang Kai, to represent the brands. 

After a year on the job, Martin sees the first signs of improvement on the horizon, especially for Peugeot. Even so, he said PSA will probably miss a target to sell 1 million vehicles in China and Southeast Asia in 2018. 
While European rival Volkswagen sold 1.83 million vehicles in China in the first half, Peugeot's deliveries amounted to just 151,000 vehicles. Its market share of less than 1 percent is well shy of a previous target of 5 percent for 2015. Turning the situation around could take two years, according to Michael Dean, a Bloomberg Intelligence analyst.
Read here for Bloomberg Intelligence analysis of PSA in China
Peugeots have been on sale in China for three decades. Long-time partner Dongfeng helped rescue the French automaker in 2014 by acquiring a 14 percent stake, and owns half a joint venture with Peugeot that develops, produces and sells cars in China. But PSA is losing share to foreign rivals such as VW and Toyota Motor Corp. as well as Chinese budget brands.
The 120-year-old French carmaker has fallen into the same trap that once plagued its European business: targeting budget-minded consumers with compact cars that compete on price. That results in thin profit margins and customers that move on as soon as they can afford something better.
To reverse that dynamic, PSA plans to introduce 18 new models by 2020 in the country -- including the DS7 Crossback. The partners are also developing a platform to produce electric and hybrid vehicles starting in 2019. The company currently has no plan to introduce Opel and Vauxhall autos in China, Martin said.

''We aren't a Chinese brand and we won't be fighting to sell 80,000-yuan cars," said Jean-Philippe Imparato, the global head of the Peugeot brand, echoing Tavares' credo that profitability trumps volumes. "If we can make money by selling 25,000 cars a month, that's what we'll be doing, full stop. And the rest will come later."
So far, Chinese consumers haven't warmed to the high-end DS cars PSA is producing with Chongqing China Changan Automobile Co., another partner. PSA sold just 3,131 of the vehicles in the first six months of this year. The French company will produce a one-ton pickup with Changan in three years, after strengthening ties to its Chinese counterpart with a 250 million-euro investment to develop new products. The DS brand should be profitable soon in China, according to its chief, Yves Bonnefont, partly because it will now share plants with Changan.
"Even if they do bring in more models, a much more aggressive marketing campaign is needed," said Cavender at China Market Research. "The new models are going to help them right away, but it's also a multi-year process of supporting the brands and investing in their presence here."
Before it's here, it's on the Bloomberg Terminal.
LEARN MORE