Balance of Power: Trump Makes Kim an Offer He'll Probably Refuse
By and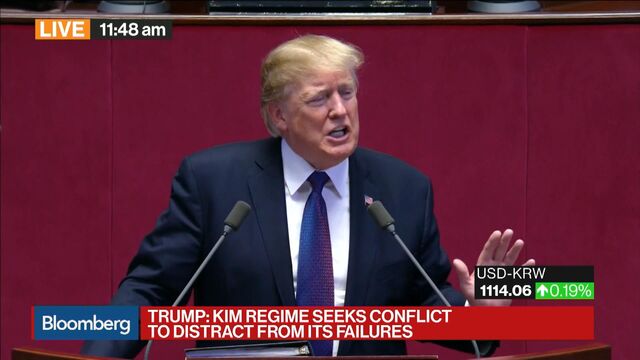 President Donald Trump finally offered North Korea an alternative to "fire and fury" — and it left Kim Jong Un with little room to maneuver.
Addressing lawmakers in South Korea, Trump called on Kim to choose "a path to a much better future." The price? Cease aggression, halt ballistic missile programs and accept a "complete, verifiable and total denuclearization."
Trump also warned Kim of military action, calling him a "deranged tyrant" who oversees a "hell that no person deserves." Trump detailed the regime's alleged human rights abuses and urged the world — especially China — to abandon Kim.
The overture to Kim is likely to fail — much as the U.S. leader's aborted attempt today to visit the demilitarized zone separating the two Koreas in heavy fog. North Korea says it will only give up its nuclear weapons if the U.S. drops its hostile policies.
Trump's tough language contrasted with his softer tone just a day earlier, when he called on North Korea to make a deal. Now the ball is in Kim's court. He could respond through state-run media, or — perhaps more likely now — another missile or nuclear test.

Sign up to receive the Balance of Power newsletter in your inbox, and follow Bloomberg Politics on Twitter and Facebook for more.
Global Headlines
Trump gets an imperial welcome | Chinese President Xi Jinping rolled out the red carpet for his U.S. counterpart, treating Trump to a tour of the Forbidden City and a Peking opera performance. The warm welcome may smooth differences over North Korea and trade during the two-day state visit, with Commerce Secretary Wilbur Ross touting $9 billion in deals involving U.S. companies such as DowDuPont and General Electric.
Global hotspots | Trump and Xi will join Vladimir Putin and about two dozen other leaders in Vietnam this week for the Asia-Pacific Economic Cooperation summit. Together they represent 40 percent of the world's population and 60 percent of its economy. Here's a look at the hot issues around the globe, from the Saudi-Iran feud to Venezuelan debt, that are likely to dominate discussions.
Defeats for Trumpism | Democrats exulted after their candidates defeated Trump-aligned Republicans in gubernatorial elections in Virginia and New Jersey. They're hopeful that the off-year wins — in which voters rejected anti-immigration and tax-cut platforms – will translate into 2018 midterm gains. Other defeats for Trumpism include Virginians electing the nation's first openly transgender state legislator and Maine voters overruling their Republican governor's refusal to expand Medicaid.
India's mysterious slowdown | Policy makers are under pressure to unravel the mystery of how last year's unprecedented cash clampdown pushed economic growth to a three-year low. Satellite imagery and railway tickets are providing some clues to understand an informal economy that accounts for about half of official output. Prime Minister Narendra Modi could use help in spurring growth before the next general election due in 2019.
Selling Argentina | President Mauricio Macri, whose country's economy is on somewhat of a roll, is in New York to woo investors ahead of another wave of reforms. Speaking in an interview, Macri hinted that he may seek a second term and said that while the plans may be vulnerable to global debt markets, Argentina is still "the best place" to invest.
And finally... There are certain aspects of being governor that Chris Christie — who has unabashedly indulged in the perks of office — won't miss. "It's serving folks like you that is really such a unique joy," the New Jersey Republican sarcastically told a voter who challenged him outside his polling station yesterday. Christie — the most unpopular governor in the state's modern history — probably won't be getting an invite to the beach-front state residence where he spent last July 4. Democrat Phil Murphy won the race to succeed him.

Before it's here, it's on the Bloomberg Terminal.
LEARN MORE