U.S. Says Saudis Vow 'Fair' Prosecutions of the Detained Princes
By
Trump earlier said Saudis 'know exactly what they are doing'

Corruption crackdown nets $33 billion in personal wealth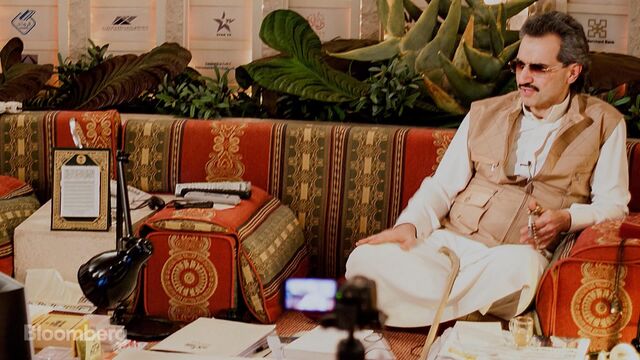 The U.S. encouraged Saudi Arabian authorities to prosecute princes and billionaires they believe have been corrupt, saying the kingdom's government has provided assurances that the legal process for those arrested will be "fair and transparent."
In a further demonstration of U.S. support for what the Saudi government has called an anti-corruption drive, State Department spokeswoman Heather Nauert said Tuesday that officials in Riyadh and Washington have been in touch about the crackdown. President Donald Trump earlier said on Twitter that Saudi King Salman and Crown Prince Mohammed bin Salman "know exactly what they are doing."
"We continue to encourage Saudi authorities to pursue prosecution of people they believe have been corrupt officials," Nauert told reporters in Washington. "They have assured us that any prosecutions that take place will be held in a fair and transparent manner."

The arrests, which included Prince Alwaleed bin Talal, one of the world's richest men and a shareholder in global companies including Citigroup Inc. and Apple Inc., have reverberated across board rooms and governments worldwide. They come as the 32-year-old Prince Salman exercises an increasingly strong hand in both domestic and regional politics, with mixed results.
Read more: A QuickTake on the big plans of Saudi Arabia's young leader
Saudi Arabia continues to be bogged down in a war in neighboring Yemen while a months-long standoff between Qatar and a Saudi-led bloc shows little sign of easing. Adding to turmoil in the region, Lebanese Prime Minister Saad al-Hariri unexpectedly resigned in a speech from Saudi Arabia this week, blaming Iran and the militant group Hezbollah for creating a state within a state. Iran is Saudi Arabia's chief rival in the Middle East, and Trump has encouraged the Saudis to push back against Iranian influence.

The Saudi crackdown that began over the weekend expanded Tuesday, as banks in the kingdom were told to freeze the accounts of dozens of individuals who aren't under arrest and lenders were sent a list of hundreds of names and told to freeze accounts linked to them, according to people with knowledge of the matter who asked not to be identified because the information is private.
The detention of some of Saudi Arabia's richest men -- reportedly at the Riyadh Ritz-Carlton hotel -- has snared an estimated $33 billion of personal wealth. In addition to Prince Alwaleed, who has an estimated net worth of $19 billion, the corruption move has snared the kingdom's second- and fifth-wealthiest people, as well as a travel-agency mogul and Bakr Binladin, a scion of a one of the country's biggest construction empires.
— With assistance by Nick Wadhams
Before it's here, it's on the Bloomberg Terminal.
LEARN MORE