U.K. Rewrites Customs Laws in Bid to Deliver 'Successful' Brexit
By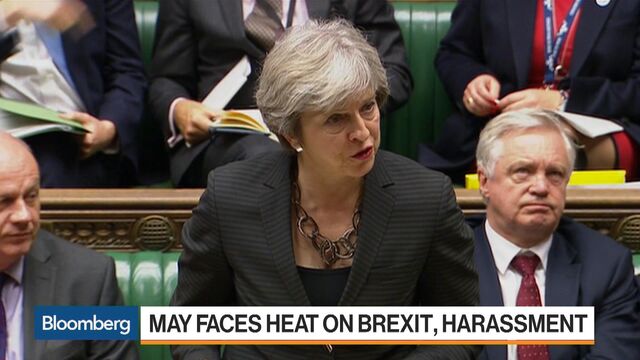 Follow @Brexit for all the latest news, and sign up to our daily Brexit Bulletin newsletter.
Theresa May's ministers took the first steps to delivering their promise to make the U.K a global trading nation after Brexit, setting out customs and trade laws that will come into force when the country quits the European Union.
A key priority will be new powers to help the U.K. keep hold of 40 existing trade deals that the EU has with other countries when it ceases to be a member of the club.
Read more: How to Trade Sits at the Heart of May's Brexit Battle: QuickTake
"For the first time in over 40 years the U.K. will be able to shape our own trade and investment agenda," International Trade Secretary Liam Fox said. "We are determined that businesses and consumers can take advantage of this opportunity from the day we leave the EU."
The U.K. is set to leave the EU single market and customs union in 2019 but wants a customs agreement with no tariffs on trade with the bloc of 27 remaining member states.
A new trade bill includes new measures to allow the U.K. to replicate the trade agreements that the EU has negotiated with other countries, while a draft customs act will allow the government to create a "standalone customs regime" and set its own rates of value added tax and customs duty on goods.
Officials said the plan was to maintain the functioning movement of goods from the day the U.K. leaves the EU by continuing the VAT and excise regimes in line with the final deal reached in negotiations.
The plan will seek to ensure U.K.-based companies can continue to access major government contracts in 47 countries. A new trade remedies body will defend British businesses against unfair trade practices in the event of disputes.
Fox said: "We are getting on with delivering a successful Brexit that strengthens our existing trade relationships while opening up access to new and exciting markets across the world."
Before it's here, it's on the Bloomberg Terminal.
LEARN MORE