Trump Says Stronger Vetting of Gun Buyers Wouldn't Have Prevented Texas Deaths
By and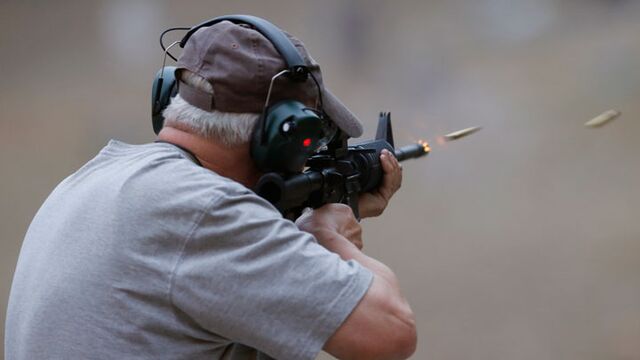 U.S. President Donald Trump said extreme vetting of gun owners would have made "no difference" in the shooting that left more than two dozen churchgoers dead in Texas.
During a news conference in Seoul with South Korean President Moon Jae-in on Tuesday, Trump was asked if he would support applying to prospective firearms purchasers the type of vetting he's proposed for immigrants and refugees seeking to enter the U.S.
"If you did what you're suggesting, there would have been no difference three days ago," Trump said.
Stricter gun control measures would have risked preventing a bystander who targeted the shooter from returning fire, he added.
"I can only say this: If he didn't have a gun, instead of 26 dead, you would have had hundreds more dead," Trump said. "So that's the way I feel about it, not going to help."
Twenty-six people, including as many as 14 children, were killed Sunday at First Baptist Church in Sutherland Springs, Texas. The suspect, Devin Kelley, appears to have been motivated by a domestic dispute, the Texas Department of Public Safety said. Kelley, who served in the Air Force, was court martialed in 2012 for assaulting his wife and child. He was sentenced to 12 months' confinement and later received a bad conduct discharge.
Air Force officials have said they failed to follow procedures requiring them to alert the FBI about Kelley's violent past, which likely would have prevented him from purchasing firearms or body armor.
Speaking Monday in Tokyo, Trump told reporters: "This isn't a guns situation. This is a mental health problem at the highest level."
Trump has responded to previous mass shootings, including last month's in Las Vegas, with calls for compassion for the victims but hasn't put forward proposals to prevent future incidents. After Las Vegas, some Republican lawmakers talked about banning or increasing regulation of bump stocks -- devices that allow firearms to shoot at speeds similar to automatic weapons -- but have yet to take any action.
Asked on Monday what the Senate could do to combat mass shootings, Majority Leader Mitch McConnell said "it's hard to envision a foolproof way to prevent individual outrages by evil people."
Before it's here, it's on the Bloomberg Terminal.
LEARN MORE