What Trump's State Dinner in Seoul Says About South Korea-Japan Tensions
By and
Shrimp caught off disputed islands will be dished up

A wartime 'comfort woman' is on the guest list for dinner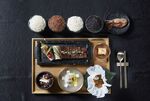 If the preparations for President Donald Trump's state dinner in Seoul are any sign, he faces an uphill battle in trying to improve the often fractious ties between South Korea and Japan.
The menu for the four-course state banquet on Tuesday night features shrimp caught in waters off Dokdo, islands controlled by South Korea that are also claimed by Japan (where they are called Takeshima). In a further provocation, one attendee will be a woman forced to work as a sex slave for the Japanese military during World War II.
One of Trump's goals on the trip was to boost trilateral cooperation between the U.S., Japan and South Korea in the face of threats from North Korean leader Kim Jong Un and China's growing dominance in the Asia-Pacific region. Yet cooperation could once more be hindered by historical grievances stemming from Japan's colonial occupation of the Korean peninsula from 1910 to 1945.
Asked about the shrimp, Japan's top government spokesman told reporters in Tokyo it was important to avoid any actions that would have a negative impact on relations between Japan, South Korea and the U.S. Yoshihide Suga added that Japan has made its position on the "comfort women" clear to South Korea through diplomatic channels.
Historians say anywhere from 50,000 to 200,000 women -- many of them Korean -- served in Japan's military brothels across Asia before and during the war. President Moon Jae-in had called for a review of a 2015 deal in which Japan provided 1 billion yen ($8.8 million) to support South Korean victims, and Tokyo has complained that its neighbor refuses to remove a comfort woman statue in front of the Japanese embassy in Seoul.
"The dinner was prepared to meet the highest respect and formality of a state visit with an aim to strengthen the close fellowship of the couples of the South Korean and American leaders and remind the significance of the solid alliance of South Korea-U.S.," the presidential Blue House said in a statement.
Guests at the dinner include First Lady Melania Trump, Secretary of State Rex Tillerson and Jared Kushner, as well as South Korea's foreign, finance and defense ministers. SK Group Chairman Chey Tae Won and Hyundai Motor Co. Vice Chairman Chung Eui-sun will also attend.
The menu features a special delicacy: soy sauce that the presidential Blue House says is 360 years old.
Here's the full menu for the dinner to be served on Tuesday night:
Corn porridge accompanied by fresh herb and vegetable side dishes served on a traditional individual table
Grilled sole from Geoje island with Donggukjang (brown bean sauce) consomme
Pine mushroom rice in a stone pot accompanied with shrimp caught in the waters of Dokdo mixed with stir-fried glass noodles and vegetables, and grilled Hanwoo (Korean beef) rib seasoned with a special sauce made with an exquisite, 360-year-old soy sauce served on a tray
Triple chocolate cake with raspberry vanilla sauce and Sujeonggwa (cinnamon punch) granita served with dried persimmons
Coffee or Tea
Before it's here, it's on the Bloomberg Terminal.
LEARN MORE