Singapore Is Coaxing Competing Banks to Collaborate on Fintech
By , , and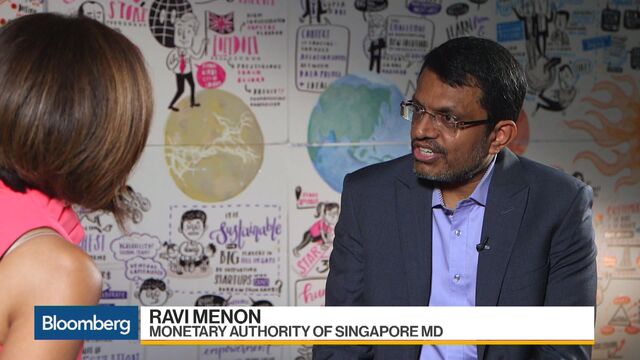 Banks in Singapore that are used to competing against one another are finding ways to collaborate in the fintech space -- under the encouragement of the Monetary Authority of Singapore.
Singapore has "a good judicious balance" between collaboration and competition among local and foreign banks operating in the country, central bank Managing Director Ravi Menon said in an October interview with Bloomberg Television's Haslinda Amin. While it is good that the banks compete quite "vigorously," there are occasions where lenders need to collaborate to maximize consumer convenience, he said.
He cited two examples of good collaboration among financial institutions in Singapore:
Project Ubin, where the regulator leads eight local and international banks, Singapore Exchange Ltd. and technology companies to experiment with a distributed ledger technology for interbank payments that could lead to more applications.

The project involves a number of banks working with technology companies and academic institutions to experiment using the blockchain technology and a central bank digital currency to execute interbank payments without the MAS acting as the central party, Menon said.

Fast And Secure Transfers, or FAST, a real-time 24/7 interbank retail payment system built in 2014 by both international and local lenders in tandem with the MAS. The system allows customers to do almost-immediate transfers of funds in local currency among the participating banks.

Only about 20 countries in the world have a similar funds transfer system and Singapore is among the earlier ones, Menon said.
— With assistance by Nasreen Seria, and Richard Lewis
Before it's here, it's on the Bloomberg Terminal.
LEARN MORE