Saudi Arabia Offers $440 Million for Intelligence on Houthi Rebels
By
Rewards range from $5 million to $30 million for 40 leaders

Saudi has been mired in Yemen war with rebels since 2015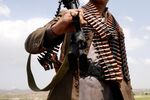 Saudi Arabia has put a $440 million bounty on the heads of 40 leaders of pro-Iranian Yemeni rebels amid escalated regional tensions between the kingdom and the Islamic Republic.
The individual rewards range from $5 million to $30 million, with the highest for help in capturing rebel leader Abdulmalik Al-Houthi, according to a government statement on PR Newswire.
The bounty offer escalates a showdown between Sunni-led Saudi Arabia and Shiite-Iran that was heightened by a missile strike on Riyadh's international airport over the weekend, which was intercepted by the Saudi military. The two regional powers are on opposite sides of a rivalry that spans Yemen, Iraq, Syria and Lebanon.
Saudi Arabia will have no choice but to create and strengthen militias in countries across the region, prominent columnist Abdulrahman Al Rashid wrote in the Saudi-owned Asharq Al-Awsat newspaper. Direct military conflict with Iran is "something that no one wants'' unless Iran launches a direct attack on Saudi Arabia, he wrote. With that off the table, "countries will have no choice but to resort to proxies'' to curb Iran's influence, he wrote.
Saudi Arabia joined the fighting in Yemen in 2015 to restore ousted Yemen President Abdurabu Mansur Hadi to power.
The government said the bounty for the Houthi leaders was meant to help eradicate terrorism and to counter the "increased terrorist activity by the Houthi group and its continuous endeavor to harm the kingdom's security with the support of the Iranian regime."
Lebanon's Crisis
The escalation in Yemen added to already rising regional tension. Just hours before the missile was fired on Saturday, Lebanese Prime Minister Saad al-Hariri, a pro-Saudi Sunni politician, unexpectedly resigned in a speech from Riyadh, blaming Iran and the Tehran-backed Hezbollah group for destabilizing his country.
Thamer al-Sabhan, a Saudi minister, said his government will not accept Lebanon being a launchpad for pro-Iranian activities against the kingdom.
Saudi Arabia will treat the Lebanese government as one that's declared war because of Hezbollah, al-Sabhan told al-Arabiya television. "Saudis will take all political measures and more to confront Hezbollah," he said.
Before it's here, it's on the Bloomberg Terminal.
LEARN MORE