Saudi Arrests Fail to Spook Bond Investors Who've Seen Worse
By
Consolidating power in MBS's hands is positive in long run

Aberdeen Standard is 'reasonably positive' on Saudi Arabia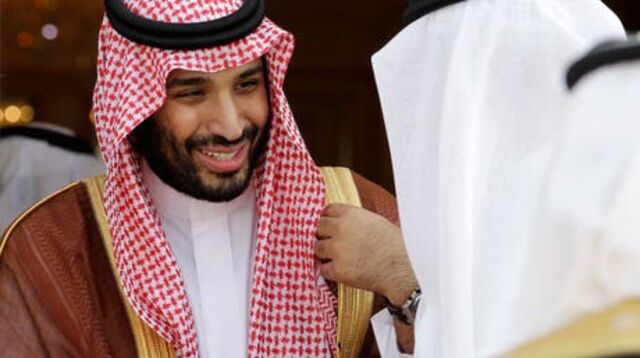 For holders of assets in a nation whose rulers are going head-to-head with a clique of billionaires and princes, Saudi Arabia's bondholders are a pretty sanguine bunch.
While Saudi stocks fell and credit default swaps rose, money managers from MUFG Securities to Aberdeen Standard Investments weren't rattled because they say the weekend swoop clears the way for accelerating economic and social reforms under Crown Prince Mohammed Bin Salman.
The crackdown "solidifies" the prince's position, said Timothy Ash, a strategist at Bluebay Asset Management in London. "If he manages to secure the succession, it does enhance his ability to push through the reforms. And, in the end, Saudi Arabia has a very strong balance sheet -- not much debt, a big cash reserve, the ability to borrow, assets to sell, and clearly they have a reform agenda."
The government arrested princes, officials and billionaires, including Prince Alwaleed bin Talal, one of the world's richest men and a shareholder in global companies such as Citigroup Inc. and Apple Inc, as part of what authorities say is a drive to fight corruption. The scale of the purge stunned investors across the six-nation Gulf Cooperation Council as concern spread of over who might be targeted next.
The central bank ordered Saudi lenders to freeze the accounts of dozens individuals who aren't already detained, according to three people with knowledge of the matter.
Read More: Saudi Crackdown Widens as More Bank Accounts Said Frozen
But such events are normal in emerging markets, says Ekaterina Iliouchenko, a senior portfolio manager at Union Investment Privatfonds GmbH in Frankfurt. In the past 18 months alone, Turkey has arrested thousands of civil servants after a failed coup, Brazil's president has fought corruption charges and South Africa's President Jacob Zuma has been fending off attempts to unseat him.
Bonds vs Stocks
Bonds fell for a third day, driving the yield on the government's dollar debt due 2026 up 15 basis points this week to 3.59 percent, the highest level since May. The Tadawul All Share Index fell as much as 1.1 percent on Wednesday before closing little changed.
Read More: Arab Stocks Sink Most in World as Rising Political Tension Bites
"Credit could probably perform better than equity, to some extent, given that the arrests obviously create uncertainty in the business environment and for shareholders and investors in the country," said Trieu Pham, a credit strategy analyst for emerging markets at MUFG Securities in London. "For the debt market, if it backs the reform perspective for Saudi Arabia, that should be supportive of Saudi's bonds."
Not only is the government overhauling its economy to reduce its reliance on oil revenue, it's also imposing social changes, which includes allowing women to drive. Prince Mohammed is spearheading the reforms after a plunge in crude prices helped expose the issues that have curbed economic growth.
While the kingdom's foreign reserves have fallen $260 billion since reaching a high in August 2014, Saudi Arabia still has $478 billion in its coffers.
Big Pick-up
The crackdown over the weekend may provoke a backlash from the old elite, but "the government is very asset rich and has plenty of liquidity overseas -- so investors can take comfort from that side of things," said Kieran Curtis, who helps oversee $5 billion in emerging-market debt as a fund manager at Aberdeen Standard Investments in London, adding that Saudi spreads look attractive.
The yield on the kingdom's 2026 bonds is more than 50 basis points above similar-maturity debt of the Philippines, which has lower investment grade scores.
"Compared to other sovereigns in similar rating environment, there is a big pick-up," he said. "We're reasonably positive on Saudi."
Before it's here, it's on the Bloomberg Terminal.
LEARN MORE