Poloz Says He's Confident Inflation Will Reach 2% Target
By and
Bank of Canada governor cites surprising persistence of slack

Underlying inflation trend is well within BoC's target range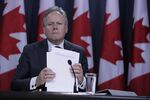 Bank of Canada Governor Stephen Poloz said he's confident inflation will return to his 2 percent target as the economy returns to normal, after spending most of the past few years below that mark.
Most of the downside miss can be explained by "the surprising persistence of excess capacity in the economy, and the fact that inflation reacts to excess demand after a lag," Poloz said Tuesday in a speech in Montreal. The governor smacked down one of the recent criticisms of global central banks -- that inflation targets are less effective because slow growth has eroded the relationship between economic slack and price gains -- by saying the laws of supply and demand haven't been repealed.
"The closer we get to full output and employment, the greater the risk that inflation pressures will appear," Poloz said. "While the economy is likely to require less monetary stimulus over time, we will be cautious in making future adjustments to our policy rate."
Poloz's speech highlights the difficulty of inflation targeting after a decade beset with obstacles since the 2008 global financial crisis. He raised rates twice this year before pausing last month on signs short-term inflation pressures had weakened. He reiterated the central bank's view that "a lot of pieces need to fall into place before we can be certain that the economy has made it all the way home."
'Modestly' Dovish
Canada's dollar extended declines after the speech, and was down 0.5 percent to C$1.2773 against the U.S. dollar at 3:32 p.m. Toronto time. The comments keep in place a market view that Poloz won't tighten at the next meeting on Dec. 6, according to strategists at TD Securities. "Poloz's speech was modestly dovish in that he continued to emphasize a cautious approach to future policy adjustments," Robert Both, Mark McCormick and Andrew Kelvin wrote in a research note.
There is good reason for caution -- since Poloz began a seven-year term in June 2013, the 12-month inflation rate has averaged 1.4 percent.
Since the middle of 2016, about 0.7 percentage points of the shortfall in Canada's inflation rate isn't explained by "fundamental drivers," Poloz said. One-off factors such as electricity rebates in Ontario, as well as the combination of abundant crop supplies and increased retail competition that have held down food prices, account for about two-thirds of this year's shortfall, he said.
"The underlying trend in inflation is well within the target range we have committed to," Poloz said, referring the central bank's target band of 1 percent to 3 percent. He also said that it's a mistake to think monetary policy can target inflation down to tenths of a percentage point.
At a press conference after the speech, Poloz rejected the idea he would let the economy run hot and inflation to push past 2 percent. Aiming for a target other than 2 percent would erode the bank's credibility, he said.
Anchoring Inflation
Poloz said the forces of supply and demand that drive inflation remain intact, in spite of increasingly global supply chains or the rising digitalization of the economy. Although common sense dictates that these trends would affect prices, there's too little "rigorous empirical evidence" to quantify the impact with certainty, he said. 
One of the things masking the relationship between the economy's output and inflation is the success of monetary policy itself, because people's inflation expectations become anchored around a central bank's target, Poloz said.
"Given all these potential factors that may be holding back wage inflation, it is simply premature to conclude that there is something amiss in the traditional inflation process. At a minimum, we need to monitor measures of slack in the labor market to see how it is being absorbed" Poloz said.
To contact the reporter on this story:
Greg Quinn in Ottawa at gquinn1@bloomberg.net
To contact the editor responsible for this story:
Theophilos Argitis in Ottawa targitis@bloomberg.net
Chris Fournier
Before it's here, it's on the Bloomberg Terminal.
LEARN MORE