Polish Prime Minister Fights to Keep Her Job
By and
Morawiecki is viewed positively by markets, bank analyst says

Kaczynski may take premier job to consolidate power: Newsweek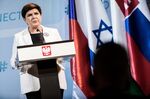 Poland's Prime Minister Beata Szydlo, battling to quell reports that she may soon be dismissed, presented ruling-party leader and potential successor Jaroslaw Kaczynski with plans to streamline economic policy making in her cabinet.
The cabinet shuffle, whose details haven't been made public, would "increase the role" of Deputy Prime Minister Mateusz Morawiecki over economic issues, according to Jaroslaw Gowin, who's also a deputy premier. Morawiecki, a former bank executive who's also the finance minister, has curbed Poland's budget deficit while ramping up economic growth.

"Morawiecki is viewed positively by investors," said Piotr Bielski, an economist at Bank Zachodni WBK SA. "He already plays a big role in the government, but there are various fractions in the cabinet that push back against his ideas, such as for reforming the pension system."
Szydlo, 54, is battling to hold on to her post amid a power struggle within the ruling Law & Justice party halfway into its four-year parliamentary term. Her government stands accused by the European Union of backsliding on democratic values, which could trigger unprecedented sanctions by Brussels on a member nation. But Szydlo and the party remain popular in Poland, partly thanks to additional welfare spending on familes.
Kaczynski's Move
Szydlo vowed to tweak her cabinet this month and said she's ready to continue in her post. But her future as premier is uncertain as Kaczynski, the kingmaker behind her government, was near a decision whether to take over and crack down on conflicts within the cabinet, the Polish edition of Newsweek reported. Law & Justice leaders will meet on Wednesday to discuss cabinet changes, party spokeswoman Beata Mazurek said.

The zloty weakened 0.1 percent to 4.2429 against the euro at 4:40 p.m. in Warsaw, while the yield on 10-year benchmark bonds fell 1 basis point to 3.43 percent.
Polish assets could face temporary downward pressure if Szydlo, who has "high approval ratings and whom the market has grown accustomed to" is replaced by Kaczynski, according to Grzegorz Maliszewski, the chief economist at Bank Millennium SA in Warsaw.
Future Uncertain
Kaczynski, 68, picked Szydlo to head the government after she ran the party's successful election campaign, which led to an unexpected majority in parliament. With no official position other than being a lawmaker, Kaczynski already sets course for the most-important government decisions and publicly chastises ministers.
"Kaczynski becoming a prime minister would imply a much clearer power structure, a stronger government," said Anna Materska-Sosnowska, a political scientist at Warsaw University. "That said, I doubt this will be the case."
The approval ratings for Szydlo's government improved over the last 12 months with Poles rating the cabinet higher on the economy, social policy, security and corruption fighting, according to a survey published by CBOS pollster. Support for Law & Justice rose to 40 percent this month compared with 37 percent it won in the elections, a separate survey by Kantar Public conducted among 1,000 adults showed.
— With assistance by Marta Waldoch, and Jonathan Stearns
Before it's here, it's on the Bloomberg Terminal.
LEARN MORE