Italy Sees Nothing New on Brexit Divorce Bill After U.K. Talks
By
U.K. Brexit Secretary Davis meets junior minister Gozi in Rome

Gozi say in interview "still work to be done" on finances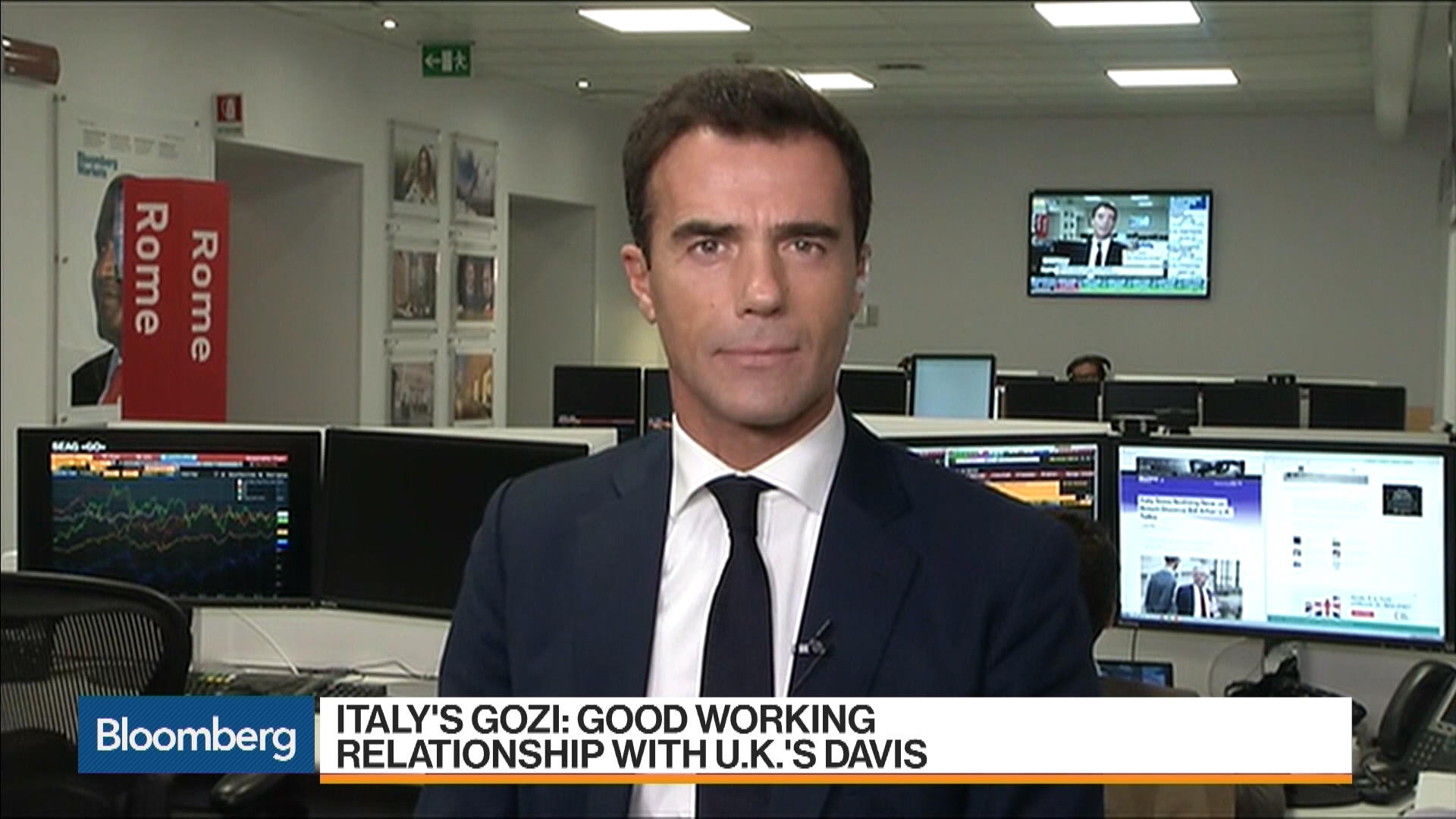 U.K. Brexit Secretary David Davis turned up in Rome Tuesday on a diplomatic drive to win over European leaders, but had nothing new to offer on the bill for Britain's departure, Italy's junior minister for European affairs said.
Sandro Gozi said his talks with Davis offered little progress on how to break the impasse in Brexit talks ahead of a new round of negotiations starting Nov. 9.
"He didn't tell me anything specifically new on the financial aspects," Gozi said in an interview in his office later Tuesday. "I told David Davis the next negotiation round will be very important, notably on the financial obligations."
Talks over Britain's exit from the EU are blocked mainly because of the divorce bill. The EU won't allow negotiations to move on until an agreement is reached, while the U.K. side has been reluctant to show its hand, partly because the issue is divisive at home. The U.K. wants talks to move on to the future trading relationship and a two-year transition phase before the end of the year.
"We hope we can achieve sufficient progress by the EU summit in December," Gozi said. "We both know the financial aspect is decisive."
Citizens' Rights
Gozi saw progress on reciprocal rights for EU citizens in the U.K. and for British citizens in the rest of the EU, although issues still to be resolved included family reunification and voting rights.
Gozi described Davis as "frank and open," and said the British government's attitude had been constructive since Prime Minister Theresa May's speech in Florence in September. May proposed a transition of about two years after Brexit in March 2019 and said the U.K. would "honor" its commitments as well as paying for the transition.
"Our negotiator is Michel Barnier, he is doing a good job," Gozi said. "But it's also helpful, as the issue of citizens' rights has shown, to maintain regular bilateral talks with the British government."
Davis was also due to visit the headquarters of Operation Sophia, the joint European naval operation to rescue migrants in the Mediterranean, before flying on to Warsaw for more talks.
Before it's here, it's on the Bloomberg Terminal.
LEARN MORE