Why Trump's Currency Punching Bag Isn't an Easy Target Anymore
Bloomberg News
China's yuan has gone from loser to gainer during Trump's term

During campaign, Trump claimed it was kept weak to boost trade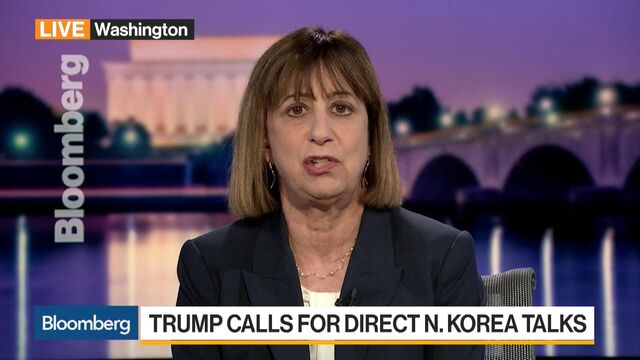 China's yuan was a regular target for Donald Trump, the candidate. But as he arrives in Beijing for his first visit to the nation as U.S. president, he'll find a lot has changed.
The currency -- which Trump claimed on the campaign trail was being weakened to advantage China's exports -- has undergone a transformation since his election a year ago.
A few months before his victory, the Republican was lambasting China as a "grand master level" currency manipulator, railing against the yuan's decline as it headed for its steepest annual slump in more than 20 years. Fast forward to now and the currency has flipped, headed for its first yearly advance since 2013 versus the dollar. It's also become more volatile, as officials ease off on intervention and talk up the yuan's more flexible future.
"I don't expect Trump to raise the issue of the yuan anymore," said Khoon Goh, head of Asia research at Australia & New Zealand Banking Group Ltd. in Singapore. The currency "is more market-determined now, with the PBOC pulling back from active intervention -- and further reforms to make the yuan more liberalized are expected."
Ironically, it's been the dollar's decline this year -- fueled in part by Trump's inability to progress his tax and healthcare agenda -- that has allowed the yuan's about turn to flourish, blindsiding strategists who had been expecting further losses in 2017. The U.S. currency's retreat has helped ease the outflow pressures that fueled the yuan's pullback in the past few years and spurred Chinese policy makers to impose capital controls.
But the yuan's increasing unpredictability is also in line with the cautious opening up that's been taking place in China's markets. Conduits allowing foreign investors access to mainland stocks and bonds have been recently established, and the People's Bank of China has been campaigning to allow more international financial institutions to set up shop.
Read more here about the global integration of China's giant markets.
"In the long term, China wants the yuan to be more free," said Eddie Cheung, an Asian currency strategist at Standard Chartered Plc in Hong Kong. "It's an ongoing evolution for the nation's foreign-exchange policy."
Before his win, Trump said he would declare the world's second-largest economy a currency manipulator on his first day in office, and in January he claimed China was acting to support the yuan "because they don't want us to get angry."
Since then, the U.S. Treasury has refrained from declaring China a manipulator in two reviews, even as the president continues to rail against imbalances in the trade relationship.
That's because China doesn't meet all the criteria, says Cheung.
One-year historical volatility on the currency -- which is still managed by the PBOC -- has spiked to the highest level since August 2016 after authorities allowed it to move more freely against the dollar. PBOC Governor Zhou Xiaochuan endorsed further yuan reform in an essay published over the weekend, saying capital controls should be reduced.


While China's policy makers may steady the yuan during Trump's visit -- in line with their preference for stable financial markets around big political events -- they'll likely steer clear of direct intervention so as not to give Trump ammunition, said Ken Cheung, a currency strategist at Mizuho Bank Ltd. in Hong Kong.
Analysts now see the yuan posting a 4.5 percent advance this year. That's a 180 shift from the start of 2017, when they expected it to slump 2.8 percent, to 7.15 per dollar.

But while the yuan's role reversal may neuter some of Trump's more strident criticisms, it doesn't mean it won't continue to be political football, says Nathan Chow, an economist at DBS Group Holdings Ltd. in Hong Kong.
The currency remains on the Treasury's "watch list," and the U.S.' trade deficit with China remains a big issue for Trump, who brought it up as recently as Monday. The $233 billion trade gap saw China meet one of the three criteria for manipulation in the last review.
Read more: Trump Is Greeted in China by a Trade Deficit as Big as Ever
"The easing of the U.S.' yuan rhetoric is paving the way for more cooperation between the two countries, such as in solving the North Korea issues," Chow said. But "politics could become an important factor driving its moves going forward -- the yuan will always be a very important bargaining chip in China-U.S. relations."
— With assistance by Tian Chen, and Hwee Ann Tan
Before it's here, it's on the Bloomberg Terminal.
LEARN MORE