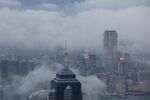 The record $5.2 billion sale of Hong Kong skyscraper The Center has conjured images of cash-rich Chinese state investors marching in to snatch one of the city's prize assets. The reality may be less glamorous.
The controlling shareholder of the consortium buying the Li Ka-shing-owned building is China Energy Reserve & Chemicals Group, a unit of state oil behemoth China National Petroleum Corp., the South China Morning Post and other local media have reported. CNPC is the parent of PetroChina Co., which has a market value of more than $200 billion.
But China Energy, a Beijing-based specialist in the storage of oil and natural gas, is neither particularly closely connected to its illustrious part-owner, nor is it a cash cow, according to information contained in public filings.
In the first half of 2016, the company generated only 95 million yuan ($14 million) in net income on 2 billion yuan of sales, a sharp deterioration from profit of 352 million yuan in 2015. A year ago, China Energy had only 2.9 billion yuan of net assets. Now, as the 55 percent owner of the buying consortium, it's leading the purchase of a prime Hong Kong commercial building for more than 10 times that amount.
The financial data on closely held China Energy were disclosed in August 2016 filings to the Shenzhen Stock Exchange by Jinhong Holding Group Co., which was buying two subsidiaries from its sister company. China Energy and Jinhong are both chaired by Chen Yihe.

CNPC's ownership interest in China Energy is separated by two layers of intermediary holding companies, with the direct shareholder being Guoneng Natural Gas Import & Export (Beijing) Co. with a 28 percent stake, according to the National Enterprise Credit Information Publicity System, a company database maintained by the State Administration for Industry and Commerce.
A spokesman for China Energy told Gadfly that the financial results disclosed in the Jinhong filings were out of date and declined to provide more current figures. When asked how China Energy could finance the purchase of The Center, he said the company's co-investors included Hong Kong billionaires. Multiple calls to CNPC went unanswered.

China Energy's other shareholders are less impressive than the oil giant. The company is 27 percent-owned by China Overseas Holding Group, which describes itself on its website as a state-owned enterprise but doesn't appear on SAIC's database. It was previously known as China Overseas Culture Spreading Co. and counts China City Construction Holding Group Co. as its second-largest shareholder.
That name is familiar to bond traders. China City Construction defaulted in June last year on a 2.5 billion yuan dim sum bond (offshore debt denominated in the Chinese currency), and has also been late on payments in mainland China. Its 5.55 percent onshore bond due this December is trading at 49 cents on the dollar.
The Center's purchaser has already paid 10 percent of the total proceeds as a deposit, with the rest due six months from now. It can seek an extension of six months, at an annual interest rate of 2.5 percent.
Since the deal closed last week, private bankers and asset managers' mail boxes have been flooded with fliers from real estate brokers soliciting buyers for individual floors. Asking prices range from HK$36,000 per square foot for the 28th and lower floors, to HK$50,000 per square foot for the 68th floor, fund managers told me.
The Center's purchase price equates to HK$33,000 per square foot so selling it floor-by-floor is a clever strategy that can both bring in a good profit and help the consortium finance the deal. 
But if anything goes wrong, watch out. China Energy and its partners all have stately-sounding names, but the degree of support they can expect from China's state cash machine is far from clear.
Before it's here, it's on the Bloomberg Terminal.
LEARN MORE