HNA's Top Owner Is Said to Name Ex-German Minister as Chief
By
Roesler is said to be appointed to run Hainan Cihang Charity

HNA is biggest shareholder in German lender Deutsche Bank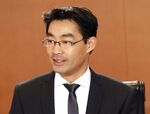 The largest shareholder of HNA Group Co., the Chinese conglomerate that's been buying stakes in companies including Deutsche Bank AG, is set to appoint former German Vice Chancellor Philipp Roesler as its chief executive officer, according to people familiar with the matter.
Roesler, who will step down from his current post as the World Economic Forum's head of government relations, is poised to take the helm at New York-based Hainan Cihang Charity Foundation Inc. in the coming weeks, said the people, who asked not to be identified speaking ahead of the announcement. An HNA representative declined to comment.
With a stake of 29.5 percent, New York-based Cihang is the largest shareholder of sprawling conglomerate HNA, which has about $180 billion in assets. The move comes less than four months after HNA revealed its ownership structure amid heightened regulatory scrutiny in the U.S. and China. Roesler's appointment is a sign of HNA's commitment to being a long-term investor in Europe and specifically Germany, where it is Deutsche Bank's largest shareholder, the people said.
Roesler would join HNA Group Chief Executive Officer Adam Tan atop the mysterious foundation. Other officials at the foundation include HNA Chairman Chen Feng's brother and son, HNA Capital International CEO Guang Yang and Ching-Ting Jian, a senior accountant at HNA Capital International, according to a previous filing.
HNA, the Curious Company Worrying China and U.S.: QuickTake Q&A
Still, little is known about the foundation such as its level of assets. Despite owning almost 30 percent of HNA, the charity has said it couldn't set a value on those shares and doesn't plan to solicit funds. The organization also said in September that it had not decided whether to seek federal tax-exempt status in the U.S.
HNA came into focus in Germany in July, when the European Central Bank considered a review of the conglomerate for its role as the largest investor in Deutsche Bank, people familiar with the matter said at the time. Such reviews typically focus on an owner's financing structure and mid-term strategy. Felix Hufeld, who heads Germany's financial regulator, told Bloomberg in September that HNA can expect more scrutiny should it further boost its Deutsche Bank holding.
Roesler, 44, would provide HNA with connections. Born in Vietnam and adopted by a German couple as a baby, Roesler was the country's economy minister and vice chancellor for the pro-business FDP party under Chancellor Angela Merkel from 2011 to 2013. He has been a vocal supporter of Chinese investments in Germany. Roesler's appointment was engineered by Christian Angermayer, a German entrepreneur and adviser to HNA, according to the people.
Sprawling Conglomerate
HNA and its shareholder structure, especially the Cihang foundation, has been a mystery for some time. The Chinese company in July revealed that New York-based Cihang and an affiliated foundation in China own a combined 52 percent in the sprawling conglomerate that has announced more than $40 billion in foreign acquisitions since the beginning of 2016, including a stake in Hilton Worldwide Holdings Inc.
"HNA is trying to legitimize its ownership structure," said Warut Promboon, managing partner at Bondcritic Ltd., which has recently initiated coverage on HNA Group. "The appointment is only slightly credit positive as we still don't know what both Cihang foundations are all about."
HNA has said it plans to update its ownership status annually and that the executives plan to donate all their shares to the charities should they resign or die. Eventually, HNA expects the foundations to own 100 percent of the group.
— With assistance by Prudence Ho, Elisa Martinuzzi, and Kenneth Wong
Before it's here, it's on the Bloomberg Terminal.
LEARN MORE