A Gas Driller That Wilbur Ross Once Tried to Save Is Exploring Bankruptcy
By
Exco says it's considering bankruptcy as option with advisers

Ross heavily invested in the driller before becoming secretary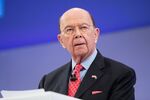 Exco Resources Inc., the natural gas driller that investor Wilbur L. Ross tried to help rescue before he became U.S. commerce secretary, is considering bankruptcy. The shares slumped to a record low.
The energy explorer has hired advisers and is considering a Chapter 11 bankruptcy, the Dallas-based company said while reporting its third-quarter earnings Tuesday. Unless it can amend debt terms or get a waiver from lenders, Exco said it won't be able to make its next interest payment on debt due in December. It reported a net loss of $19 million for the quarter.
Before becoming secretary, Ross had heavily invested in the small driller and handpicked turnaround titan C. John Wilder as chairman of the board to help improve its finances. Low oil and natural gas prices continued to weigh on Exco instead, and a deal the company struck to sell assets in South Texas fell apart earlier this year. The stock has plunged 93 percent so far this year.

Ross resigned from Exco's board after being confirmed as commerce secretary. He agreed to divest his direct and indirect stakes in the company.
Just hours before Exco's disclosure, Forbes reported that Ross had been inflating his net worth, citing conversations with him and more than a decade of internal reporting notes. The magazine's website now estimates Ross's net worth at $700 million, down from its $2.5 billion estimate in March. Emails to Ross and a public relations representative for comment on the report weren't immediately returned Tuesday.
Exco slid as much as 50 percent Wednesday to an all-time low and traded down 38 percent at 95 cents a share at 11:33 a.m. in New York.
— With assistance by Brendan Coffey
Before it's here, it's on the Bloomberg Terminal.
LEARN MORE