Fox's Disney Flirtation Puts Sky, Murdoch's Assets in Play
By
Studio, cable channels seen as attractive for buyers

Sky's distribution may help media companies cope with Netflix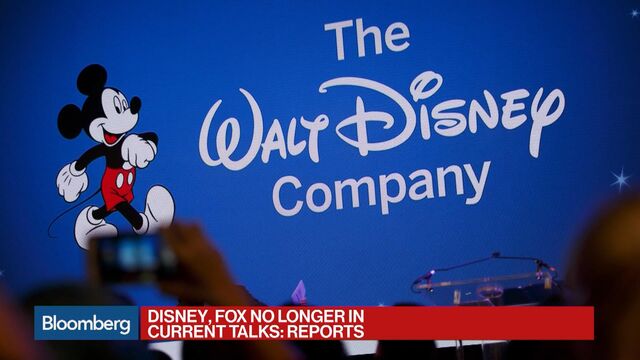 Walt Disney Co.'s talks to acquire assets from 21st Century Fox Inc. may be over, at least for now, but Rupert Murdoch's empire looks ripe for other potential suitors to make an offer.
Fox's media properties, including its prized stake in European pay-TV giant Sky Plc, could attract all sorts of media and technology companies from Comcast Corp. to Amazon.com Inc. to Verizon Communications Inc. interested in programming and distribution. Fox is still aiming for regulatory approval next year to buy full control of Sky, which would give it-- or a buyer -- a provider with 22.5 million customers across Europe.
Disney has been on a hunt for just that sort of direct relationship with customers, a search that led the entertainment giant to briefly consider a deal for Twitter Inc. and to eventually acquire video technology provider BamTech to develop Disney streaming services. Sky also has its own programming, including rights to Premier League soccer, that could be attractive to suitors.
"Sky for Disney is a wonderful fit and helps them meet their stated target of going straight to the consumer," Brian Wieser, analyst at Pivotal Research said in an interview, adding that the satellite company is already trying to be a Netflix in Europe. "If Fox is for sale then everyone would look at them."

In the talks, first reported by CNBC, Disney discussed acquiring Fox's movie and TV studio, gaining characters such as the X-Men, according to a person familiar with the matter. Disney would also get cable networks such as FX and National Geographic, along with international properties including Fox's Star cable network in India. Fox would keep its news and sports networks and its broadcast business. The talks ended without a deal, said the person, who asked not to be identified discussing private information.
Steven Cahall, an analyst at RBC Capital Markets, valued the assets Disney sought at more than $20 billion. The remaining company would be worth about $46 billion, assuming it keeps all of the debt, he said.
If Disney doesn't come back to the table, there's reason to believe others would.
Fox owns one of the six major movie studios, but its box-office returns were a distant fourth to Disney last year and are likely to trail far behind by the end of this year too. With theater attendance stagnant the last few years and competition rising from Netflix Inc. and Amazon, investors might welcome mergers in the industry to cut costs. The other major studio owners are Comcast, Time Warner Inc., Sony Corp. and Viacom Inc. Fox's studio also makes programming for other TV networks, such as NBC's "This Is Us."
Binge-Watching Library
In an era of cord-cutting, when people are getting rid of cable subscriptions to watch Netflix and YouTube, acquiring cable networks like FX might seem strange. But Fox's channels have hits, from "American Horror Story" to "You're the Worst," that could help build a library of shows for binge-watching to better compete with the online threats. That's a strategy everyone from CBS Corp. to Disney to Time Warner is employing.
Fox's reach outside the U.S., especially with Star, would be attractive to Disney and other suitors. Sky, including its internet video offering Now TV, would give Disney impressive control over both content and online distribution, Omar Sheikh, an analyst at Credit Suisse, said in a note.
"Beyond just scale, investors are likely to believe the combined company is in a structurally much stronger position to exploit the growth of video consumption online than either of the companies are apart," Sheikh said.
Fox Chief Executive Officer James Murdoch said as recently as two weeks ago he expects the Sky deal to be approved by U.K regulators in the first half of 2018. But it's a tough road ahead. The U.K.'s Competition and Markets Authority is looking into issues of corporate culture at Fox as part of its review of 11.7 billion-pound ($15.4 billion) bid for the rest of Sky. The review is expected to focus in part on the handling of sexual harassment allegations against Roger Ailes and Bill O'Reilly at Fox News.
Fox was willing to scrap the Sky bid as it contemplated selling assets to Disney, CNBC reported Monday, citing people familiar with the matter. While that signals that Fox may feel less confident it will gain regulatory approval for its Sky purchase, a successful conclusion of the bid is still the most likely outcome, Ian Whittaker, an analyst at Liberum, said in a note.
Fox can't simply walk away from its bid unless a deadline for completion lapses and selling its Sky holding to Disney would require approval from U.K. takeover authorities, according to analysis of the rules by Olivetree Financial Ltd. If Disney makes a direct purchase of the Sky stake, it would be obligated to make an offer for the rest of Sky at the same price as the one made by Fox, Olivetree said in a Tuesday note.
Shares of Sky declined 1 percent to 930 pence on Tuesday in London, trading 13 percent below Fox's bid of 1,075 pence apiece.
Pie in the Face
If the deal is ultimately approved, it would be a vindication for Fox founder and Executive Chairman Rupert Murdoch after seven years of fighting. In his first, unsuccessful bid to win regulators' clearance, he closed a newspaper and took a pie in the face from a protester at a hearing. This time around, he shut down Fox News in the U.K. It's hard to believe, after all that, that Murdoch would give up his hard-fought control of Sky by selling it to someone else, said Rich Greenfield, an analyst at BTIG LLC.
Rupert Murdoch controls Fox through voting shares, with his son Lachlan as executive chairman and his son James as CEO. The elder Murdoch, 86, built his media business from an Australian newspaper to a global empire in the span of 65 years, and the thought that he'd be willing to break it up surprised many long-time observers.
One, Pivotal's Wieser, theorized that James would move to Disney as part of the deal, while Lachlan would run the remaining Fox business. Bob Iger, Disney's CEO, is scheduled to retire in July 2019.
But there may be a simpler explanation. Disney and Fox, which both report earnings this week, have seen their shares slump this year as concern deepens that online competition is stealing viewers away. Both are looking for ways to reshape their media businesses to better compete in a new era. Shares of both companies rose Monday when news of the deal talks broke.
The discussions between the two giants are an acknowledgment of an idea that few in the media business want to acknowledge, said BTIG's Greenfield: "This industry is in secular decline."
— With assistance by Christopher Palmeri, and Joe Mayes
Before it's here, it's on the Bloomberg Terminal.
LEARN MORE