Five Things You Need to Know to Start Your Day
Get caught up on what's moving markets.
By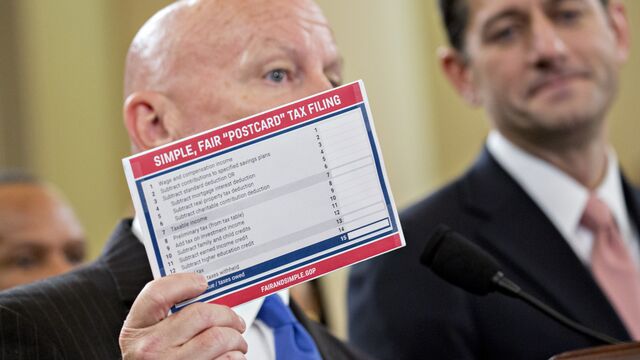 Want to receive this post in your inbox every morning? Sign up here
Big week for tax reform, Trump meets South Korean leader, and Saudi shakeup snares $33 billion. Here are some of the things people in markets are talking about today.
Fiscal bill
The House tax-writing committee began a four-day debate yesterday to hammer out the details of the Republican plan. Ways and Means Chairman Kevin Brady of Texas has said he'll allow revisions in committee but not on the House floor. The goal is to have the proposal in the House by the end of this week, with the Senate passing a tax bill before the Thanksgiving break. While that schedule is ambitious, should the House and Senate fail to approve the legislation by then, a heavy calendar in December may force the plan to get shelved until January. 
Trump in South Korea
President Donald Trump arrived in South Korea for a two-day visit that will feature talks on a trade deal with the country that the president has said hurts U.S. workers. Speaking next to President Moon Jae-in Seoul, Trump called on North Korea to "come to the table" and forge a deal on its missile and nuclear programs. Coordinating a regional response to the Pyongyang regime is one of the key goals of the trip. The scale of challenges the U.S. is navigating shouldn't be underestimated, with even today's banquet in Seoul a reminder of the lingering animosity among the region's large economies. 
Saudi Arabia
The crackdown on corruption in Saudi Arabia has put $33 billion of personal wealth at risk, with Prince Alwaleed bin Talal's losing  more than $1 billion after shares in his Kingdom Holding Co. plunged following his arrest. Trump appeared to be front-running his foreign-policy planners when he tweeted a positive response to the shakeup. Oil remains near the highest level in two years following the stunning weekend events in OPEC's biggest oil exporter.
Markets rise
Overnight, the MSCI Asia Pacific Index gained 0.8 percent, while Japan's Nikkei 225 Stock Average rallied 1.7 percent to reach its highest close since 1992. In Europe, the Stoxx 600 Index was broadly unchanged at 5:40 a.m. Eastern Time, with shares in A.P. Moller-Maersk A/S dropping more than 5 percent after the company increased the cost estimate from a cyber attack earlier this year. S&P 500 futures were unchanged, the 10-year Treasury yield was at 2.333 percent, and gold slipped. 
MiFID II
With less than two months to go before the European Markets in Financial Instruments Directive (MiFID II) takes effect, many firms – even in the U.S. – are scrambling to get last-minute arrangements in place. Despite few in financial markets seeming to have a good word to say about the new rules – which will revamp research payments, among other measures – the legislation has some fans who say it boosts investor protections, and say the best analysts will continue to get paid for their work. 
What we've been reading
This is what's caught our eye over the last 24 hours.
Before it's here, it's on the Bloomberg Terminal.
LEARN MORE