Czech President Favored to Win First Round of January Election, Poll Says
By
Polling suggests second-round runoff will be necessary

Incumbent has won support with anti-Muslim, pro-Russian stance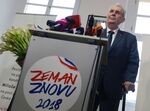 Czech President Milos Zeman is in the lead over a wide field of contestants vying for the country's highest office in a January vote. 
Zeman, 73, is poised to win the Jan. 12-13 first round with 34 percent, according to a survey by the CVVM pollster, a result that would force a faceoff between the winner and the runner up two weeks later. The president's top challengers have tried to build support by denouncing Zeman's anti-immigrant, pro-Russian rhetoric. Fewer than half of the 19 registered candidates appear to have met the legal requirements, the Interior Ministry said on Wednesday.
"It is quite safe to assume that Milos Zeman will advance to the second round," said Josef Mlejnek, a political scientist from Charles University in Prague. "The real fight is going to be over who his challenger will be."
Half a decade before this year's election gains by anti-establishment parties across the European Union, Zeman stormed back onto the the former communist nation's political scene as a pro-Russian, anti-elite candidate who has since polarized Czech politics. He is seeking a new five-year term after railing against Muslim immigration, which he has denounced as the "organized invasion" of Europe.
Zeman has bashed the urban elites of a "Prague coffeehouse society" that he says is detached from real-life problems, helping propel his office to be one of the most trusted state institutions in the country of 10.6 million. His opponents include Jiri Drahos, the ex-chairman of the Czech Academy of Sciences who has 22 percent support, and the millionaire former co-owner of betting company Fortuna, Michal Horacek, with 13 percent, according to the CVVM poll. Former Prime Minister Mirek Topolanek, who announced his candidacy on Sunday, wasn't included in the survey.
Unconventional Figure
While previous presidents served in a mostly ceremonial role, Zeman has pushed the boundaries of the constitution to carve out greater power for himself. Mlejnek said one example was the president's announcement that he'll give billionaire Andrej Babis, who's seeking to form a minority government following parliamentary elections, two chances to form a cabinet even if he fails to win parliamentary approval in a first attempt. Both Zeman and Babis have tapped into euroskeptic sentiment, criticizing the EU's refugee policies and its sanctions against Russia.
The fragmented field of opponents can hurt contenders jockeying for the second place. Topolanek is well-known to voters, but suspicions of corruption tied to his 2006-2009 government may hamper his chances. His former close adviser, Marek Dalik, is serving a five-year prison sentence for fraud related to the purchase of military equipment. Czechs were also embarrassed when Topolanek's administration collapsed while the country held the EU's rotating presidency.
Zeman, who has reveled in a maverick persona by smoking during public events and once proclaiming that drinking six glasses of wine and three shots of liquor a day isn't a problem, has also ruffled feathers abroad.
An outspoken supporter of Russian President Vladimir Putin and U.S. President Donald Trump, he advised Ukraine to negotiate compensation with Moscow over the annexation of Crimea. Ukrainian leaders denounced the comments as unacceptable.
— With assistance by Peter Laca
Before it's here, it's on the Bloomberg Terminal.
LEARN MORE