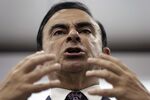 Is it already time for Carlos Ghosn's victory lap? 
The auto patriarch who last year folded troubled Mitsubishi Motors Corp. into the Groupe Renault-Nissan Motor Co. global alliance has seen the value of his company's 34 percent stake almost double. After reporting a 9.6 percent jump in first-half sales on Tuesday from the year before, Mitsubishi Motors' market value topped 1.35 trillion yen ($11.9 billion). Talk about a quick buck, er, 223 billion yen for Nissan. 1

By the looks of Tuesday's results, the company is on track to move past the fallout from a 25-year fuel-economy cheating scandal and hit targets to increase sales by more than 30 percent in three years while bringing its operating profit margin to the pre-scandal level of 6 percent. 
Not only did Mitsubishi Motors' net sales climb as it posted gains in key markets like Japan, China and the U.S., the carmaker's operating margin inched up to 4.67 percent. Operating profit swung to a 44.2 billion yen gain, from a similar-sized loss in the year-earlier period. 

Back then, Gadfly's David Fickling predicted Mitsubishi Motors would be Ghosn's biggest test yet, highlighting the fixer-upper's winning track record at Renault and Nissan but questioning whether he could push change at a carmaker still partly controlled by the century-old Mitsubishi trading group. 
To that end, Ghosn took over the role of board chairman and zeroed in on his increased responsibilities at Mitsubishi Motors. He adroitly handed over day-to-day operations at Nissan to Hiroto Saikawa.
Although the board is still among the oldest in Japan and made up mostly of men aged 60 and above (there's one female director), Ghosn did help push through the appointment of three other Nissan-approved board members and the hiring of Nissan's chief performance officer, Trevor Mann, as Mitsubishi Motors' chief operating officer.
The company has 11 new models to trot out, including an all-electric version of its popular Outlander SUV, and is planning to add sales networks in the U.S. and capacity in China. The automaker is moving to tie pay with performance and edge away from a seniority-based compensation system that's plagued many lethargic, cash-rich Japanese companies. 
Higher profits should be easier to obtain as provisions for losses on fuel-economy tests go down and promised cost savings from the global car alliance come to fruition, but the automaker will also have to account for pledges in increased R&D and capital spending. 2
Figuring out how to compete with other carmakers in the U.S., which are hiking buyer incentives as sales slow, won't help. Mitsubishi should also be aware that the weak Japanese yen won't be around forever and neither will the boost in Chinese sales courtesy of a Beijing-backed boycott on South Korean autos. 
That's probably why Mitsubishi on Tuesday prudently kept full-year forecasts unchanged. Coming back from a crisis has a way of positively distorting growth and it won't be until 2020 when the bulk of the benefits from joining the Renault-Nissan alliance kick in. But by then, the progress will no doubt be fully baked into the shares.
In May 2016, Nissan announced it would buy a 35 percent stake in Mitsubishi Motors for 237 billion yen, or $2.2 billion at the time. 
Before it's here, it's on the Bloomberg Terminal.
LEARN MORE