Brexit Bulletin: Business Despairs
By
U.K. business is getting frustrated over Brexit shambles

Corbyn's effort to woo executives leaves some skeptical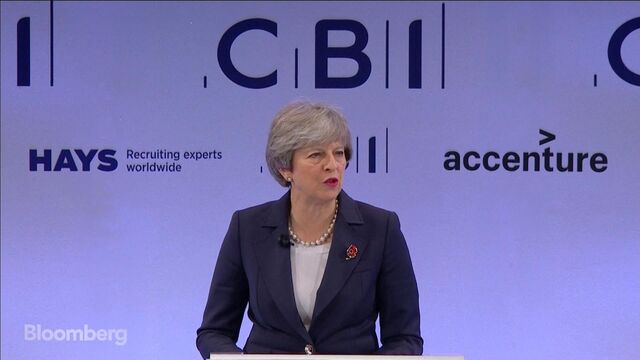 Sign up to receive the Brexit Bulletin in your inbox, and follow @Brexit on Twitter.
Businesses in the U.K. are finding it hard to know what to wish for.
Both Prime Minister Theresa May and Labour leader Jeremy Corbyn addressed company leaders on Monday at the Confederation of British Industry's annual conference, and neither impressed the crowd. Executives accused May's Conservatives of shambolic management of Brexit. And while Corbyn encouraged some with his "jobs first" approach to the divorce from the European Union, his fondness for nationalization struck terror into many.
Interviews with 15 executives at the conference echoed the view that the country is heading into hazardous waters without a paddle, Bloomberg's Alex Morales and Joe Mayes report. The Tories, the traditional defenders of free markets, are riven by divisions over Brexit. Corbyn is an old-school socialist who spent decades on the party fringes and has long been suspicious of business – a feeling that's mutual. word
"The way that they're managing the economy right now, the Conservative Party is a shambles," Advanced Computer Software Group Chief Executive Officer Gordon Wilson said in an interview.
"I still have worries about the hidden costs of a Labour government," said Philip Wright, CEO of the Textile Services Association. "He didn't actually say the bear traps he'll put in the way of business," he added, referring to Corbyn's likely tax increases.

One of the key frustrations is a misunderstanding about a crucial business demand: a transition deal that's meant to buy them time to adapt to the divorce. There's a chasm between what companies want and what the U.K. is seeking.
Executives have long called for a transition that will maintain business as usual for as long as possible, giving them first certainty and then, once the future relationship with the U.K.'s biggest trading partner is established, time to adapt. As the clock ticks down to the March 2019 exit deadline, it's becoming clearer that there won't be much notice ahead of any transition deal. The government is shooting for an agreement in the first quarter, just a year before the exit, and that won't come with the full details. It's also not clear how binding any such arrangement will be.
Have businesses been willfully deaf or have they been led to believe that what they were seeking was realistic? 
"The longer that time goes on without the details, the less happy we will all be dealing with just the concept," said Peter Wall, chairman of drinks maker Tails Cocktails. Peter Ward, CEO of the U.K. Warehousing Association, said: "We're just continually drifting."
Brexit Latest
Brexit Papers | Will the secret studies on Brexit's impact on industry and the economy ever be released? House of Commons Speaker John Bercow told Brexit Secretary David Davis on Monday that he should produce them by the end of Tuesday or tell lawmakers why not. Davis wrote to the head of the Brexit committee in Parliament on Monday agreeing to meet him but argued that it's not in the national interest to release the papers, and in any case the documents aren't what people think they are. "It is not, nor has it ever been, a series of discrete impact assessments examining the quantitative impact of Brexit on these sectors," he wrote.
Diplomatic Stumbles | An interesting cabinet meeting is on the cards today amid the ongoing sex scandal in Westminster and unrelated missteps by ministers. Foreign Secretary Boris Johnson was accused of making comments that risk a longer jail sentence for a British mother being held in Iran. And International Development Secretary Priti Patel held a secret meeting with the Israeli leader while on holiday. Tim Bale, professor of politics at Queen Mary, University of London, sums up the renegade diplomacy: "One is beginning to wonder what somebody would have to do to get the boot from the cabinet."
Bank Exodus Accelerates | JPMorgan Chase & Co. is nearing a deal to lease additional office space in Frankfurt, while Citigroup Inc. and Deutsche Bank AG are scouting the market for options, according to people with knowledge of the matter. Goldman Sachs Group Inc. has already signed leases for offices that they won't move into until 2019. Law firm Baker & McKenzie LLP has signed for a new Frankfurt office in a tower that won't be completed for five years. German officials including Acting Finance Minister Peter Altmaier will be speaking in Brussels on Tuesday about the impact of Brexit on EU financial services.

Legal Leap | For decades, London has been the place to go for big commercial disputes in Europe. Even when companies based outside Britain sue one another, the cases are argued in London. Now Paris, Amsterdam, Frankfurt, and Brussels are stepping up efforts to get a greater share of court levies and lawyers' fees from corporate squabbles, Bloomberg Businessweek reports.
U.S. Option | If the U.K. can't reach an accord regarding new drug approvals by the European medicines regulator after Brexit, the government may consider looking to the U.S. as an alternative, Bloomberg's Naomi Kresge reports.
Diplomat Davis | Ahead of the next round of Brexit talks on Thursday and Friday, Brexit Secretary David Davis is continuing with his diplomatic efforts. He's in Rome today.
Global Nation | The British government took the first steps to delivering its promise to make the U.K a global trading nation after Brexit, setting out customs and trade laws that will come into force when the country quits the EU. A key priority will be new powers aimed at helping the U.K. keep hold of 40 existing trade deals that the EU has with other countries.
On the Markets | Royal Bank of Canada's head of currency strategy Adam Cole forecasts the pound will drop to $1.20 by yearend, as the Bank of England didn't offer enough last week on the rate outlook to keep investors optimistic. It was unchanged at $1.3168 in early trading on Tuesday. House price data is out this morning.
And Finally...
Portugal, often described as Britain's oldest ally, is ready to benefit from Brexit. It's hoping to burnish its reputation as a startup hub in Europe as Brexit and political upheaval in Catalonia make other destinations less attractive, Economy Minister Manuel Caldeira Cabral told Bloomberg Television.
Some of Portugal's main selling points include having the same time zone as London, cheap rents, an economy that's set to grow 2.6 percent this year and legions of high-skilled, affordable, workers eager to find jobs in a range of sectors. Plus some cool tourist sights.

For more on Brexit follow Bloomberg on Twitter, Facebook and Instagram
Before it's here, it's on the Bloomberg Terminal.
LEARN MORE