Firebrand Brazilian Candidate Bolsonaro Turns to Liberal Economist
By and
Bolsonaro discusses economics with researcher Adolfo Sachsida

Sachsida favors structural reforms, central bank independence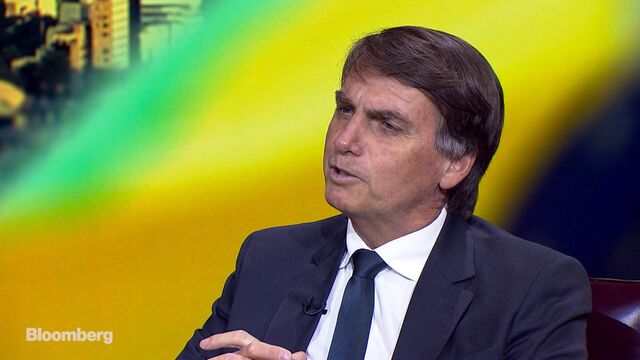 Brazil's firebrand presidential hopeful Jair Bolsonaro has turned to a free-marketeer and socially conservative thinker for ideas to help shape a national agenda.
In an interview, Adolfo Sachsida, an avid blogger and researcher at the government-run Research Institute for Applied Economics, or Ipea, said that he has been discussing economics with the former Army captain and longtime legislator from Rio de Janeiro.
"I speak to him, we exchange ideas," Sachsida said, emphasizing that Ipea had nothing to do with his contacts with Bolsonaro and denying local media reports that he had been hired as a formal adviser. "I'd vote for him, I believe this country needs a conservative agenda."
Bolsonaro ranks second in opinion polls on voter intentions for next year's presidential election, having made a name for himself due to his firm stance on law-and-order issues and mockery of socially progressive causes. He advocates both laxer gun laws and loosening restrictions on the police's use of force to help combat crime. In an interview in October, Bolsonaro said his understanding of economics was superficial.
Bolsonaro's press office said Sachsida is a "friend" to whom the lawmaker often speaks about economics, but noted that he is neither an adviser nor is he designing policy proposals. Ipea's press office said its researchers can't provide consultation in the name of the institution, and personal agreements are assessed on a case-by-case basis for any conflict of interest. 
Read more: Bolsonaro's economic policy proposals
In line with classic liberal thinking, Sachsida favors more market and less state. In the Brazilian case, that means more structural reforms to cut government spending and subsequently taxes.
"We agree on most issues, for example the need for central bank independence," said Sachsida, who obtained his doctorate in economics from the University of Brasilia and did some post-doctorate work at the University of Alabama. In a message posted on his Twitter account on Nov. 3, Bolsonaro called for "an independent central bank to define targets, lower interest rates, reduce inflation and obtain economic predictability."
The person who put Sachsida in touch with Bolsonaro was Bernardo Santoro, former head of the Liberal Institute, a Rio de Janeiro-based not-for-profit group that promotes thinking of the likes of Milton Friedman and Ludwig von Mises.
Like Bolsonaro, Sachsida is outspoken on a wide range of issues, commenting on everything from nudity in art shows to what he sees as the left's culpability for the rise in violence in Brazil. One of the latest posts on Sachsida's blog refers to his free, self-help economics class on YouTube.
Sachsida says trade is one of the few issues where he doesn't agree with Bolsonaro, who calls China heartless and would restrict its access to Brazil's industry. "I defend free trade, he has more of geo-political view."
Before it's here, it's on the Bloomberg Terminal.
LEARN MORE