Billionaire Ergen Has Options Again as Sprint, T-Mobile Talks End
By
Dish's shares rally as investors renew hope for a deal

Fund manager: Ergen may have a hard time stepping back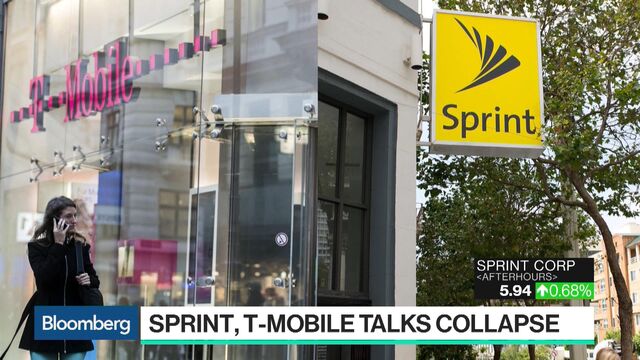 Charlie Ergen's back.
Dish Network Corp.'s unpredictable co-founder and chief executive officer, who appeared to be on the sidelines just weeks ago as competitors paired off or decided against doing deals, now finds himself in the mix again.
Merger talks between Sprint Corp. and T-Mobile US Inc. collapsed over the weekend, creating two more potential partners for Dish. The second-largest satellite-TV provider in the U.S. has its own collection of airwaves to bring to a deal -- $40.9 billion worth, according to Bloomberg Intelligence.
Dish shares rose nearly 6 percent Monday as investors speculated the company could tag-team with T-Mobile, Sprint or one of their rivals to build out its wireless spectrum. The assets, including airwaves Dish bought in a government auction earlier this year for $6.2 billion, could help a mobile-phone company offer faster and more feature-rich services. Although Ergen may chose to build a network using the airwaves on his own, he's repeatedly said that he is looking for partners among wireless companies.
"The breakup between Sprint-T-Mobile is great for Dish," independent analyst Chetan Sharma said in an email. "It has more options and more runway to figure out its strategy. The valuation of the spectrum assets would have also fallen had the merger talks been successful."
Dish shares were little changed Tuesday at $50.76. The company declined to comment, as did T-Mobile. Sprint didn't return requests for comment.
If T-Mobile makes a play for Dish or its spectrum, Verizon Communications Inc. could seek to counter-bid, Pivotal Research analyst Jeffrey Wlodarczak said in a note Monday. But Verizon's CEO Lowell McAdam recently said the company isn't looking for major acquisitions. Verizon declined to comment.
Ergen, 64, may ultimately be unable to do a deal. Suitors like T-Mobile may be interested in Dish's airwaves, but the decaying satellite business isn't an attractive asset, Craig Moffett, founding partner at MoffettNathanson LLC, said in an email. More importantly, Ergen may resist giving up control of the company -- to anyone.
"I've always had a hard time imagining Charlie Ergen stepping back," Michael Mahoney, senior managing director at Falcon Point Capital LLC, which invests in wireless companies, said in a phone interview. "But he is getting older, he would have to do do that. But I've always thought it would be at his funeral."

Ergen has to make a decision soon on his next step. The billionaire will probably have to start building a network to put his airwaves to use next year if he doesn't have a deal. Dish has to comply with Federal Communications Commission requirements that a network using the spectrum be deployed by 2020, Josh Yatskowitz, an analyst at Bloomberg Intelligence, said in a phone interview.
Even Ergen has acknowledged that Dish could use an ally in building the network.
"It's realistic to assume, I think, that we're going to need some help," he said. "And we need help in doing that both in technical knowledge and know-how and financial and everything else because just like we needed help to launch satellites."
Dish is scheduled to report third-quarter results on Nov. 9.
Before it's here, it's on the Bloomberg Terminal.
LEARN MORE