Balance of Power: What to Make of Trump's Saudi Embrace
By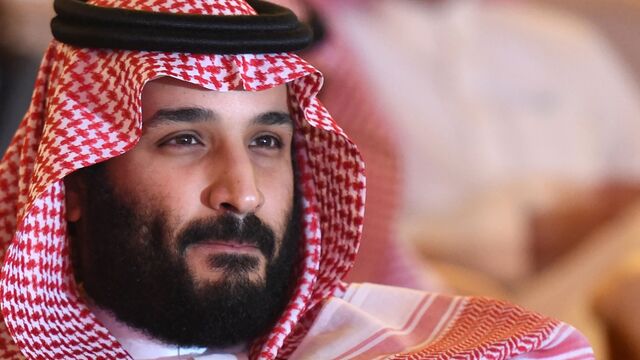 Tensions between Saudi Arabia and Iran are ratcheting up, and U.S. President Donald Trump's embrace of the desert kingdom may be emboldening its leadership.
The United Arab Emirates and Bahrain lined up behind Saudi Arabia after it accused Tehran of backing a thwarted missile strike  — what it called an "act of war" — at Riyadh's international airport over the weekend. And the Saudi state minister told Lebanon it's effectively declared war on the kingdom by not reining in Iranian-backed Hezbollah militants.  
Trump — a staunch critic of Iran — continues to encourage Saudi Crown Prince Mohammed bin Salman. He tweeted yesterday that he has "great confidence" in the crown prince's arrests of Saudi billionaires and officials, even before the State Department finished a formal review of the situation.
It's not clear where all of this is heading, since both sides have incentive to play up the rivalry to consolidate support at home and abroad. But amid the uncertainty, one thing is sure — which side Trump is on.

Sign up to receive the Balance of Power newsletter in your inbox, and follow Bloomberg Politics on Twitter and Facebook for more.
Global Headlines
Trump's reversal on talks with Kim | Trump, who last month accused Secretary of State Rex Tillerson of "wasting his time" trying to negotiate with Kim Jong Un, today urged North Korea to "come to the table and to make a deal." The remarks — made in Seoul alongside South Korean counterpart Moon Jae-in — represent the latest twist in the president's approach to Kim, whom candidate Trump said he was open to speaking with.
Paradise lost | European Finance ministers vowed to take action after the leak of records exposing members of the global business elite who sought refuge from heavy tax burdens in remote islands. They'll discuss a blacklist of havens at a meeting today — the aim is that such a list will force countries to become cooperative to avoid being "named and shamed" but, if needed, there may be some credible sanctions too. 
The trade deal that wouldn't die | Almost 10 months after Trump abandoned the Trans-Pacific Partnership, the campaign to salvage it reaches a critical crossroads as the remaining 11 members meet in Vietnam. The ability of countries such as Australia and Japan to overcome sticking points on the sidelines of the Asia-Pacific Economic Cooperation forum may determine whether they can preserve an agreement that some future U.S. president may wish to join. 
Catalan maneuvering | Separatist parties are trying to renew their alliance before next month's regional election. Such a deal was the basis of the 2015 majority that declared independence from Spain last month, before the assembly was dissolved by Madrid. But recent tensions are complicating negotiations. Maria Tadeo profiles the key players.
State elections test Trumpism | The fate of Republican gubernatorial candidates in Virginia and New Jersey today could shape how the party moves forward in the age of Trump, Terrence Dopp reports. In Virginia, former Republican party chief Ed Gillespie is channeling the president in his race against Lieutenant Governor Ralph Northam with ads condemning NFL player protests and warning about Latino gangs. The outcomes set the tone for next year's congressional midterms.
And finally... Could this be the time Boris Johnson went too far? The U.K. foreign secretary, who recently said Libya's "dead bodies" were deterring investors, has come under new fire for telling lawmakers that a British-Iranian charity worker accused of plotting against the state in Iran was actually training journalists. Iranian authorities then added a charge of "spreading propaganda" against Nazanin Zaghari-Ratcliffe. She has long held she was only in Iran to introduce her baby daughter to her grandparents.

— With assistance by Kathleen Hunter
Before it's here, it's on the Bloomberg Terminal.
LEARN MORE