Arab Stocks Sink Most in World After Rising Political Tension
By and
Alwaleed's Kingdom among stocks dragging down Saudi index

Saudi crackdown, tension with Iran weighing on investors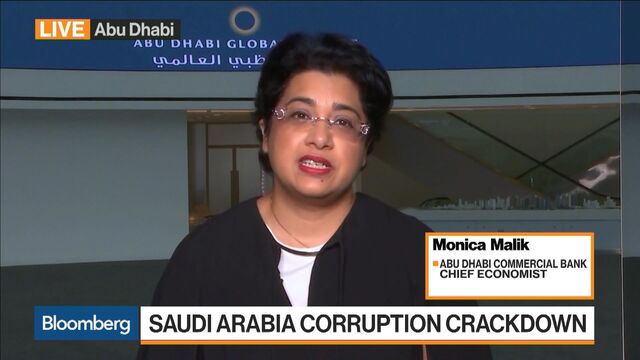 Stock indexes across the Gulf were among the world's worst performers after a corruption crackdown in Saudi Arabia and heightened geopolitical tension rattled investors.
Kuwait's SE Price Index retreated 2.8 percent as 99 members declined, more than any day since May. Saudi Arabia's Tadawul All Share Index lost as much as 3.1 percent, the most in a year, before trimming losses to close 0.7 percent lower. About 25 companies on the gauge fell around 10 percent, the maximum allowed in a day. Trading on Saudi Arabia's index exceeded 200 million for the first time since June.
DFM General Index dropped 1.8 percent
Qatar's QE Index fell 1.1 percent
Bahrain Bourse All Share Index retreated 1 percent
Egypt's EGX 30 Index declined 0.1 percent
Abu Dhabi's ADX General Index retreats 0.4 percent
Saudi Arabia arrested dozens of princes, ministers and former and current officials as part of its fight against corruption. The world's top oil exporter also renewed a confrontation with OPEC member Iran after Lebanese Prime Minister Saad al-Hariri resigned on Saturday from Saudi Arabia, blaming Iran and Hezbollah.
Read More: Saudi Assets Seen Set for Rocky Times as Purge Jolts Traders
"Investors have been hammered with bad news on the geopolitical front," said Nabil Al Rantisi, the managing director of Abu Dhabi-based Mena Corp. Financial Services. "It's not easy to see what is coming next. Some individuals and institutions are trying to dump assets that are tied to the investigations, there is selling pressure."
More Pressure
The crackdown is expanding beyond those that are already detained, spurring an increase in the nation's credit risk and forward contracts on the riyal, which is pegged to the U.S. dollar. The central bank ordered lenders in the kingdom to freeze the accounts of dozens of individuals who aren't under arrest, according to three people with knowledge of the matter.
Riyal forward contracts that expire in 12 months rose to 260 points on the offshore market, the highest level since July. Five-year credit default swaps climbed by the most since March on a closing basis to 97 basis points, according to CMA data. The yield on the nation's dollar bonds due 2028 rose seven basis points, the most since they were issued in September.
"Those investors prepared to take on board the long-term risks of Saudi may welcome the disruption of status quo politics," Hasnain Malik, the global head of equity research at Exotix Capital, wrote in a note to clients. "For those unprepared to do so (and their ranks arguably have swelled only after the oil price fall, even though these risks have been identifiable for years) this event will reinforce their discomfort."
Biggest Losers
Prince Alwaleed bin Talal, a billionaire with investments in companies including Citigroup Inc. and Apple Inc., was among those arrested. Shares of the company he founded, Kingdom Holding Co., fell 10 percent on Tuesday, bringing the three-day slump to 21 percent. Red Sea International Co., Al Tayyar Travel Group and Aseer Trading Tourism & Manufacturing Co. also declined about 10 percent after reports that some of their executives were also drawn into the corruption probe.
The Tadawul recovered much of its losses toward the end of the trading day, similar to both Sunday and Monday, when it erased declines of as much as 2.2 percent.
"I think the government funds, led by the Public Investment Fund, are supporting the market," said Joice Mathew, the head of equity research at United Securities in Muscat. "Look at other markets, all are down by more than a couple of percentage points in the last three days, while Saudi is the only market which is still holding up."
"The government needs to show that financial markets are taking the move positively and business is as usual in Saudi, while the reality is something else," he said.
Before it's here, it's on the Bloomberg Terminal.
LEARN MORE