Advantage Spain as Split Hits Separatist Fight for Catalonia
By
Separatist parties miss deadline to register alliance for vote

Catalan regional ballot due Dec. 21 after takeover by Madrid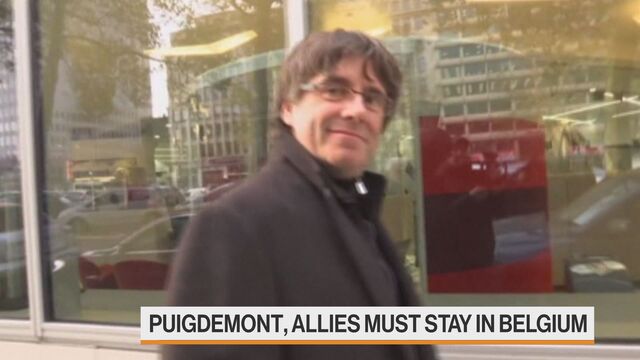 Catalan separatists failed to heal their divisions in time to establish a common front for December's election, boosting Spain's chances of restoring some normality to the rebel region.
The main parties in favor of independence are set to run on separate platforms Dec. 21 after Esquerra Republicana ruled out an alliance less than two hours before the midnight Tuesday deadline for registration.
"We have pushed for a list including all the sovereign forces because we believe that would be a powerful response to the challenge of the state," Esquerra spokesman Sergi Sabria said in an emailed statement. "Given the impossibility of forming a really unified list, we will have to seek coordination between different platforms."
The separatist movement is battling to maintain momentum after a chaotic month that saw its leader, Carles Puigdemont flee to Brussels after Madrid seized direct control of the region. Prime Minister Mariano Rajoy invoked extraordinary constitutional powers to restore order in Catalonia after the regional parliament declared independence on Oct. 27.
Read more: Why Catalonia Still Fights Battle That Divided Spain: QuickTake
Pro-independence activists are staging a day of protests across the region on Wednesday in a bid to demonstrate their continued relevance. Catalonia's transport authority reported 28 roads wholly or partially blocked as of 8:56 a.m. They include seven blockages on the main coastal highway. The Catalan rail network Rodalies Catalunya said services were greatly affected by people invading tracks. La Vanguardia newspaper reported that protesters had blocked the high-speed rail track at Girona.
Roads Blocked
Spanish stocks fell for a sixth straight session, with the benchmark Ibex index losing 0.3 percent at 9:34 a.m. in Madrid. Shares in the U.K., Germany and France all rose. Spain's 10-year bond spread was little changed at 109 basis points, after touching its lowest level in almost three months on Tuesday.


The Catalan regional police, known as Mossos d'Esquadra, said officers were working to clear roads. The 17,000-strong force is crucial in implementing the central government's direct-rule in the region.
While the three main separatist groups agree they want to break away from Spain, they have very different views on how hard to push for it and what the new republic should look like. Those tensions came to the fore over the past month, with the radicals of the CUP demanding Puigdemont deliver an emphatic announcement, regardless of the economic consequences. Puigdemont's center-right group, the Catalan Democratic Party, wanted a more measured approach to minimize disruption for businesses.
With polls signaling the result of the election is on a knife edge, the separatists' failure to unify their forces could tip the balance in favor of those who want to remain with Spain. Puigdemont made a last-ditch appeal Tuesday for the separatists to set aside their differences from his self-imposed exile.
Separatist Rival
Complicating the political calculus though is a shift in support toward Esquerra, Puigdemont's mainstream allies. While the former president's party has dominated Catalan politics since the return to democracy four decades ago, Puigdemont has been eclipsed by Esquerra, led by former Vice President Oriol Junqueras. Junqueras is currently in jail in Madrid and facing potential charges of rebellion that could see him sentenced to as much as 30 years in prison.
"Esquerra looks to be be the big winner and running alone means it can explore different options and new coalitions it would have not been able to do alongside Puigdemont," said Juan Rodriguez Teruel, professor of political sciences at the University of Valencia. "After the election, we're going to see a blame game among the pro-independence parties and new narratives emerge from the pro-independence leaders. Puigdemont is a reminder of everything that went wrong."
Read more: Catalan Leader Freed in Brussels as Court Mulls Spain Demand
A poll by Barcelona-based newspaper La Vanguardia published Saturday showed Esquerra winning the most seats with Puigdemont's party trailing in fourth place behind Ciutadans and the Socialists, both opposed to independence.
Junqueras, 48, is planning to run again for the regional assembly even though he could be behind bars throughout the campaign. Only a conviction would see him barred from office.
Exiled Leader
The National Court in Madrid has since jailed eight former government officials for their part in the drive for secession and issued international arrest warrants for five others who fled to Belgium, including Puigdemont.
A group of pro-independence mayors traveled to Brussels on Tuesday to show their support for Puigdemont, who insists he's still the legitimate Catalan leader. While European Union officials have refused to be drawn into the dispute, matters are more complicated for Belgium Prime Minister Charles Michel who is due to appear before his parliament Wednesday to explain his government's position on Catalonia.
"Is this the Europe that you want?" Puigdemont asked EU leaders, addressing a crowd of supporters in Brussels late Tuesday. "A Europe where a government is imprisoned?"
— With assistance by Sharon R Smyth, and Esteban Duarte
Before it's here, it's on the Bloomberg Terminal.
LEARN MORE