U.K. May Seek Closer Ties With U.S. Drug Overseer After Brexit
By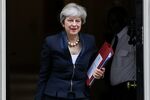 If the U.K. can't reach an accord regarding new drug approvals by the European medicines regulator following Brexit, the government may consider looking to the U.S. for support.
"That is not our desired outcome," James O'Shaughnessy, a Conservative lawmaker in the upper house of Parliament, said at the Bio-Europe conference in Berlin on Monday. The U.K. wants to continue to benefit from its relationship with the European Medicines Agency, he said. But "there are approvals being made by other stringent regulators."
At issue is the question of whether the U.K. can avoid the expense and challenges involved in taking over the task of reviewing and approving hundreds of drugs for use in the country once it leaves the European Union in March 2019. Pharmaceutical industry executives have advocated reaching a pact that would essentially allow for mutual recognition of new medicines between the EMA and the national drug agency, thereby eliminating the need to replicate processes and reducing costs for drugmakers.
Without such a deal, companies may opt to introduce new drugs in the U.K., home to about 66 million people, only after they've tapped the U.S., continental Europe and other, bigger markets. The EMA -- which oversees medicines for about 500 million people in the region -- is poised to move away from its current London headquarters and end its oversight of the U.K. market after Brexit.
"The regulatory situation is a good example of the absurdity of the situation we are in," John Haurum, chief executive officer of U.K. biotech F-Star GmbH, said during the panel. The best-case scenario would be that the U.K. simply decides to follow the EMA, essentially maintaining the status quo, he said.
The U.S. Food and Drug Administration is sometimes faster than the EMA in approving new medicines, and new Commissioner Scott Gottlieb is seeking to speed up the process even further.
Before it's here, it's on the Bloomberg Terminal.
LEARN MORE