Trump and Xi Joust for World Economy Crown
By and
Xi has mapped out vision through 2050; Trump needs quick wins

Trump aims for rustbelt revival; Xi wants to climb value chain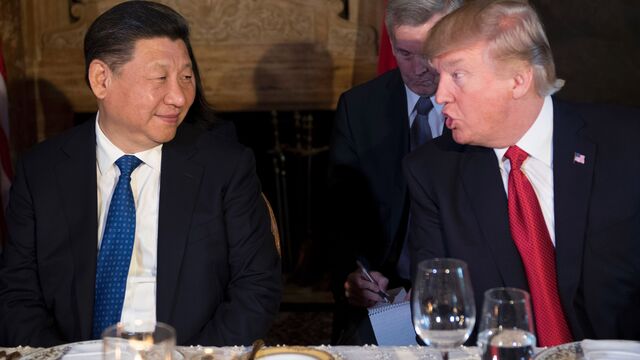 President Donald Trump touches down in Beijing Wednesday seeking immediate wins for the world's-biggest economy. His host, President Xi Jinping, is playing a longer game.
Xi has mapped out a two stage blueprint: first, to entrench China's manufacturing might by 2025 through a shift up the technology chain to high value-add products. Second, as laid out last month, build a "great modern socialist country" so China is "a global leader" by 2050.
Trump, who'll be accompanied by business leaders eager for deals, wants to cut his nation's trade deficit with China, which last year totaled $327 billion according to IMF data. That gels with his campaign pledges to return manufacturing jobs to the U.S., including reviving industries like coal mining and steelmaking.
"Xi's model is to build an economy that looks more like America's, and Trump's is to build an American economy that looks more like China's has been," said Hugh White, a professor of strategic studies at the Australian National University in Canberra and a former intelligence analyst and senior defense official. "Xi's increasingly focused on China's economy expanding into high-tech and high value-added jobs and letting other people mine the coal and make the steel. Trump's model of course is just the opposite."
Click here to see how fast China's economy is catching up to the U.S.
So far, the Trump presidency has been a positive for China's economy as low U.S. unemployment and slow-to-no progress on tariffs has supported a return to growth for China's exports, while a weak dollar for the first three quarters of the year was a boon for the yuan, said Bloomberg Intelligence Chief Asia Economist Tom Orlik.
"In an optimistic scenario, Trump's appetite for tweetable wins and China's longer-term focus could coalesce around financial market opening -- a boon for the U.S. investment banks, and a support for China as it attempts to tame its credit boom," Orlik said.
Trump -- whose two-day itinerary to China includes a stop at the Forbidden City in Beijing and a state dinner -- told reporters in Tokyo on Monday he has an "excellent" relationship with Xi. Still, the U.S. president said there's a "very unfair trade situation."
"It has to come down," Trump said of the trade deficit. "And that has to do really with free trade, fair trade, or reciprocal trade. And frankly I like reciprocal the best of the group."
Commerce Secretary Wilbur Ross has warned it will take time to resolve complex issues like intellectual property rights and forced technology transfers. The Commerce Department last month maintained its view that China is a non-market economy, a decision criticized by Beijing.

China, by contrast, has raised expectations. Its ambassador told reporters in Washington late last month to expect "significant outcomes." Xi told a group of U.S. executives in Beijing -- including Apple Inc. Chief Executive Officer Tim Cook and Facebook Inc. founder Mark Zuckerberg-- that he was looking forward to Trump's visit and that his nation is embarking on reform with "unprecedented determination and vigor."
China's on-again, off-again embrace of markets is all part of the broader imperative to avoid the "middle-income trap." While China's accomplishments "have been nothing short of spectacular" for over 35 years, it is now moving into a zone "that has long proved so problematic" for sustained economic development, said Stephen Roach, a senior fellow at Yale University and former non-executive chairman of Morgan Stanley in Asia.
"Nations get ensnared in the 'middle-income trap' if they stay stuck in their early-stage development mindset -- drawing on the innovations of others and the external demand of their trading partners," Roach said. "For that reason alone, China's current and prospective focus on indigenous innovation is particularly encouraging."
China's 2025 blueprint shows it's aware of the dangers. It calls for breakthroughs in 10 key sectors such as robotics and medical devices.
Meantime, the Belt-and-Road Initiative -- expected to create more than $1 trillion of investment in rail, highways and ports linking Europe and Asia -- would see unskilled jobs shift to cheaper labor forces offshore while companies retain strong links back to China. 
Xi's 2050 program aims to bolster "comprehensive national strength and international influence" with the rule of law, innovative companies, a clean environment, an expanding middle class, adequate public transportation and reduced disparities between urban and rural areas. He's also aiming to rebalance the economy away from a reliance on heavy investment and exports and toward domestic consumption.
Read more: Xi's Iron Grip on Power Adds Pressure to Deliver on Reforms
"If China rebalances and America does not, China's role as a global growth engine will continue to expand, while America's role diminishes," Roach said.
Such an outcome isn't in Xi's interests right now. Robust external demand as the global economy picked up this year has provided a favorable backdrop for his efforts to cut excess capacity from smokestack industries and cut risks in parts of the financial system -- both crucial to his longer-term vision to improve the quality, not just the quantity, of growth.
The Chinese system is able to "articulate a long game and sketch out how it wants to reach that," said Yukon Huang, author of "Cracking the China Conundrum: Why Conventional Economic Wisdom Is Wrong." The U.S. political process "tends to be very short sighted and narrow."
"This contrast between a very short-term focus on issues against a China which tends to think very long term is an interesting challenge," said Huang, a senior fellow at the Carnegie Endowment for International Peace in Washington. "How does America set out a long term agenda to deal with a relative decline in authority, and even if it has a vision, to carry through and implement it?"
Before it's here, it's on the Bloomberg Terminal.
LEARN MORE